We are excited to feature a sponsored review of the Lids 'n Lizards Magnetic Photo Vocabulary Game!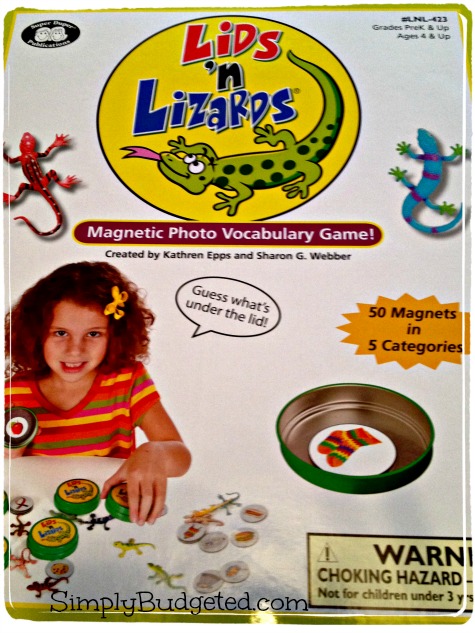 Details …
Lids 'n Lizards® Magnetic Photo Vocabulary Game
Watch kids flip their lids over magnetic photos of ice cream, monkey and toothbrush, as they comprehend that they belong in Food, Animals and Transportation. Grownups place a magnet under each one of the lids and then hide the lizards under the lids. Children flip a lid, name the photo object on the magnet and identify its category (such as Animals, Clothing or Around the Home). The child that finds the most lizards is the winner. Game includes 50 magnets, 20 lids and 12 lizards. (suggested price: $39.95) Recommend Age: Grades PreK – 5
Our Thoughts …
As a refresher, our kids are ages 3 (almost 4), almost 5.5, and 6.5.  I wasn't sure if this game would work for all of them. I was able to unstack the lids easily but the kids had problems unstacking them. I wasn't sure how the game would go when the kids couldn't get the magnets separated from each other (they were stacked by categories!) I did get 20 magnets unstacked to go in the bottom of the 20 lids. The kids hid all of the lizards and started playing the the game.
So the version of the game we played was the basic version that all of the kids could play. The kids picked a lid to see if there was a lizard. They got to keep the lizard if they could say what was on the picture of the magnet and then what category the magnet fit in. Some of the categories are Food, Transportation (this was a hard word for all of them!), and Around the House. I was worried Matthew wouldn't keep up but he did!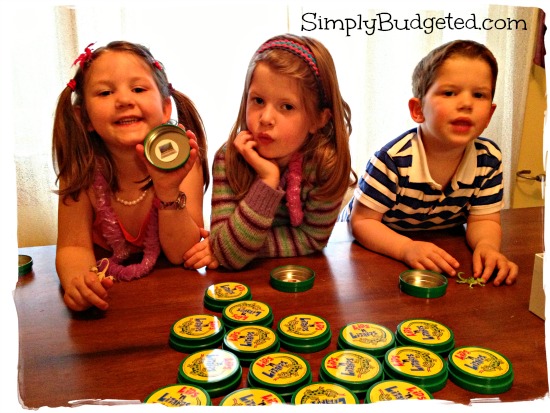 Matthew lasted a couple of rounds of the game. The girls wanted to keep playing though. Since we are the younger side of the games, I loved how the kids played this game with very little help.
Ready to go buy this game or another product? We are excited to share that Super Duper is celebrating "It's Better Hearing and Speech Month" with 20% off your entire web order with Promo Code BETTER!