After putting out more flags at Veteran graves on Memorial Day morning, we took the kids strawberry picking. The farm we love in Orange, VA wasn't picking so we had to find another location. We headed to Critzler Family Farm in Afton, VA. It was a drive from where we live but it was worth the drive out there!
Of course we failed to take pictures out in the field. We went to far side of the strawberry field and away from most families and found a lot of big strawberries. Knowing that some of the local places had no strawberries and others had really tiny strawberries, we were excited to find big juicy strawberries.
Between the five us, we picked 16 pounds of strawberries! Here are the kids with their buckets. (Brian had the two buckets we filled.)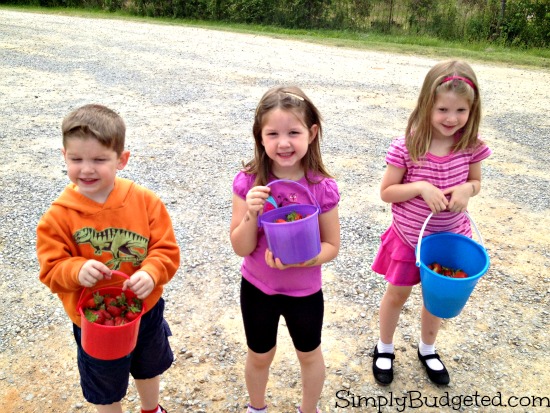 Matthew LOVES strawberries, can you tell? If you set out a bowl of them, he will just stand there and eat them one after another.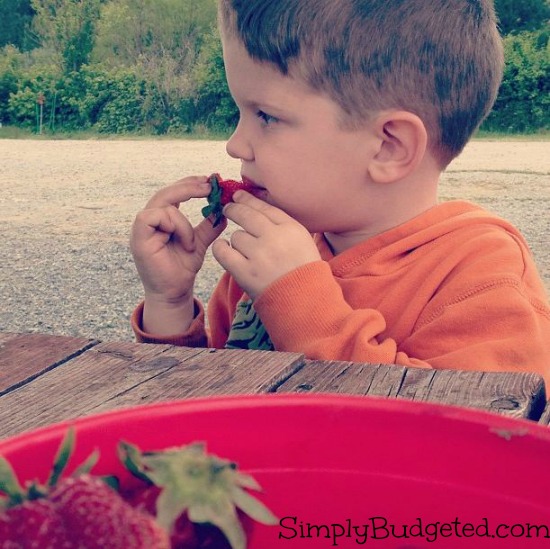 Grace was thrilled that they were serving strawberry ice cream that day. I have to admit that it was really good strawberry ice cream!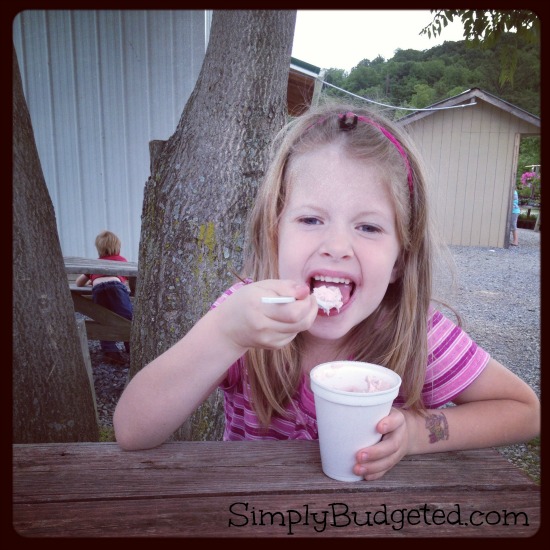 I am happy to say that Grace and Sophie are not allergic to strawberry plants like I am. Matthew had on his hoodie so I will still have to watch for him in coming years. I can say thanks to my mom for passing along the allergy to strawberry plants. My arms break in hives after strawberry picking from touching the plants … ohh do they itch! Oddly enough (and thank goodness) neither of us are allergic to the actual strawberries! Oh the sacrifices you  make for fresh strawberries!
The strawberries aren't super sweet as we have a lot of rain here lately. The extra rain makes the strawberries less sweet. But they have been really good so far. Brian made strawberry shortcake the night that we picked these. I made Grace some Strawberry Banana Bread. A strawberry cake is planned too. Maybe some strawberry jam at some point? Hopefully we will share some those pictures soon!
Have you been strawberry picking yet? What is your favorite strawberry treat? Let me know!