We are excited to feature a sponsored review of the Team Umizoomi: Animal Heroes DVD!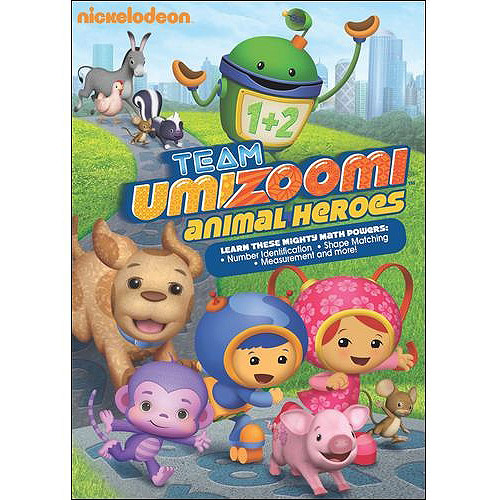 Details …
Team up with Team Umizoomi on four fantastic animal missions! Help Milli, Geo, and Bot get Purple Monkey to his new Monkey Jungle home at the zoo, rescue Buster the dog at a construction site, fix the Cuckoo Bears' clock, and find all of Farmer Dan's missing animals!
Our Thoughts …
All three of the kids enjoy Team Umizoomi but they don't ask for it much off the DVR. When they saw the DVD come, they danced around the living room. Matthew is on a big … no HUGE animal kick right now. So he saw the animals on this DVD and was really excited. The first time the DVD played, they just just sat and watched the whole DVD. That hardly ever happens. The next time the kids asked for this DVD, Matthew loudly requested the "zoo show". Apparently the zoo episode on this DVD is his favorite.
Want to know the true test to a DVD at our house though? If a DVD is really loved at our house, it ends up in a DVD player in the van. About a week after this arrived, it was in the van. I don't think it has left!
Do you have kids that love Team Umizoomi at your house? Amazon has a great price on the Team Umizoomi: Animal Heroes
DVD right now plus it is available under Amazon Prime!