It is a rare day that I drop our youngest two kids off at preschool. That is normally Brian's job but today I dropped them off on my way to work since he had an early morning appointment. Sophie had to take her preschool graduation gown back to school today. We had forgotten to take it back and she had to have it for dress rehearsal tomorrow. I impressed myself and even managed to toss it in the dryer with a wet washcloth to get the wrinkles out of the gown. Sophie carried her gown out out the car and smashed it under her book bag. oh well. It was going to get wrinkled and I accepted that.
We got preschool and little man ran ahead to open the door. Daddy has taught him well and that boys should open doors for girls! 😉 Sophie insisted on carrying her gown. I reminded her not step on it as I was getting Matthew's book bag from the car and caught up to them to see this.
A 5 year old getting ready to graduate preschool and go to Kindergarten.
So confident.
So proud of herself.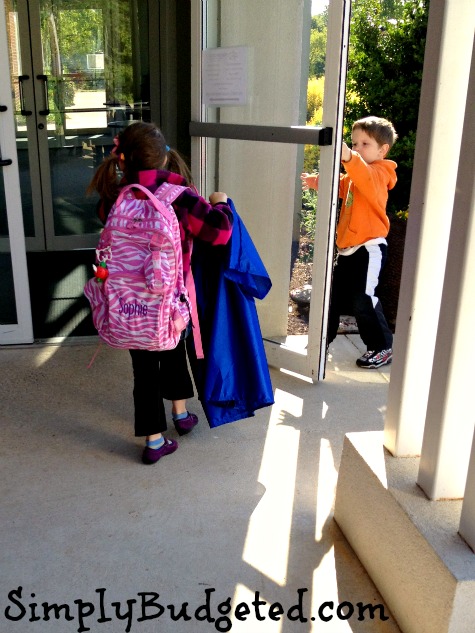 Her little brother stood there holding the door open for his sister that he loves more than anything even when he fights with her before school.
In 13 years, I pray that I see this again.
A girl (that will always be little to me) getting ready to graduate …
hopefully still so confident and so proud of herself.
So there you have it.
There is my goal … no …. OUR goal as parents is to keep that girl being little in our hearts while she grows and ensure that confidence and pride in herself continues to grows!
We honestly have that goal for all three of our kids but that simple glance up this morning caught me by surprise and made me realize that she won't always be five. I know that is a fact … a given … part of life but this morning I saw the future she has ahead of her. I couldn't help but smile and be proud of all we have yet to come in our lives with our three children.
Oh and hopefully our little man will keep opening doors for all of the ladies including both of his big sisters just as daddy taught him!
Have you seen your future in the small every day activities that happen in your life? Leave me a comment and let me know!