We are excited to provide a sponsored review of Mike the Knight: Knight in Training DVD, Mike the Knight Sword & Shield, and "Welcome to Mike's World" book from Simon & Schuster Children's Publishing.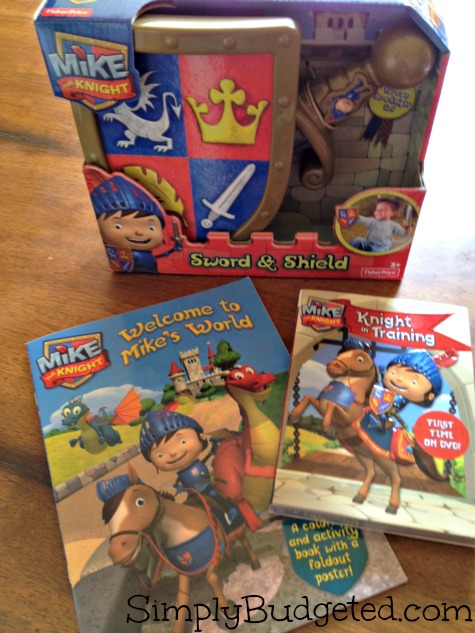 Details …
Fisher-Price Mike The Knight Sword and Shield Playset
Every knight needs his tools of the trade. Pretend to be Mike the Knight as you play out adventures with your own sword and shield for the ultimate knight experience.
Welcome to Mike's World (Mike the Knight)
This Mike the Knight coloring book comes with a tear-out wall poster!
The medieval kingdom of Glendragon comes to life with this activity-packed coloring book that introduces Mike the Knight and all his family and friends. Along with Mike you'll meet his mother, the Queen; his sister, Evie; and best friends Squirt and Sparkie. This book includes a full-color, pull-out poster that Mike the Knight fans can use to decorate their rooms in their own kingdoms.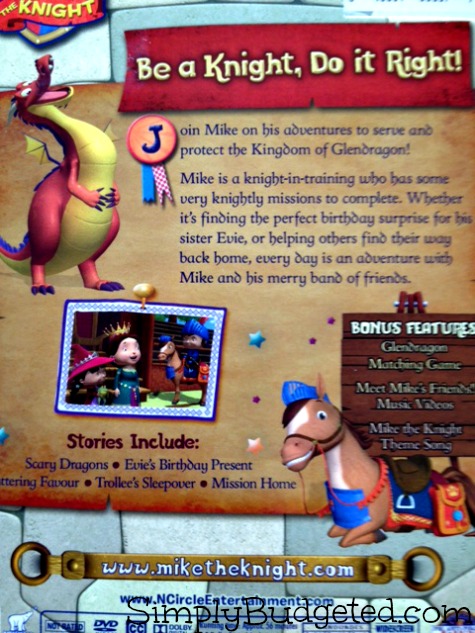 Featuring five fun-and-learning-filled adventures, "Mike the Knight: Knight in Training" finds Mike on missions to serve and protect the Kingdom of Glendragon.  Whether it's locating the perfect birthday surprise for his sister Evie, or helping others find their way back home, every day is an adventure with Mikeand his friends!  The all-new Glendragon Matching Game, as well as Meet Mike's Friends! Music Videos and a karaoke version of the theme song are also included. The DVD will sell for $12.99 and is approximately 56 minutes in length.
 Our Thoughts …
When asking if the kids if they enjoy watching Mike the Knight, the answer is a resounding yes from all of them. Brian mentioned that he really likes saying that Mike repeats in all of the shows. Maybe you have caught Mike saying "Be a Knight, Do it Right!"?
As for the goodies, the kids love to have a DVD of their favorite shows to take along in the van. This is a DVD that will be on summer car trips for sure! The coloring book was fully explored by all of the kids. I have seen it their activity bags a few times already. I figured the sword and shield would be loved by Matthew. He played with them the most right away but Sophie has really enjoyed them too. Can you tell?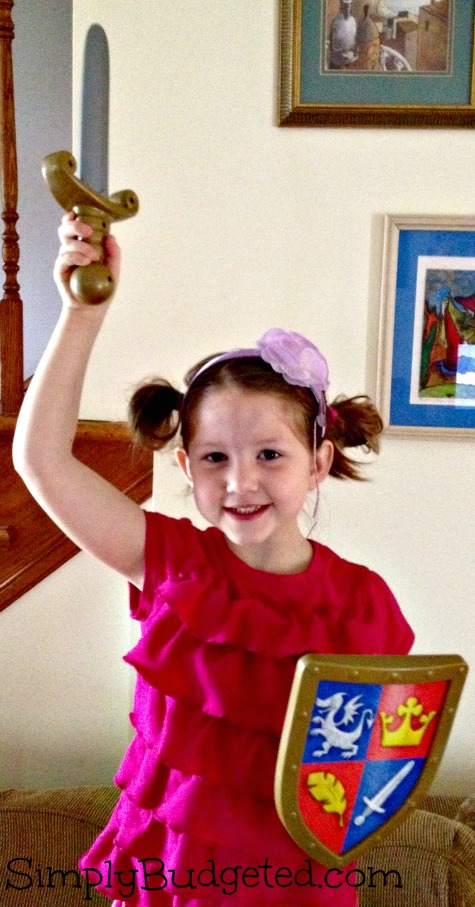 Thanks to Circle Entertainment, HIT Entertainment, and Fisher-Price for working with us on this review promotion!