We are excited to work with Corey Creations to review their new My Image Button Maker!
Details …
Use the Myphotosizer software to create your own wearable pin buttons or stickable magnet buttons! Picture window lets you line up your photo for easy cutting! Use your own photos and the fun images included to make awesome pin and locker magnet buttons!
Our Thoughts …
I love button makers. We had a big button maker as a kid. I was surprised to find the same button maker at Girl Scout camp last year. Then I realized how finicky that button maker was. It wouldn't crimp the edges all of the time. The backs would fall. It was just bad. So I was really hopeful for the My Image Button Maker! The snap together buttons that have pins and magnets are stored in the drawers with the button sheets.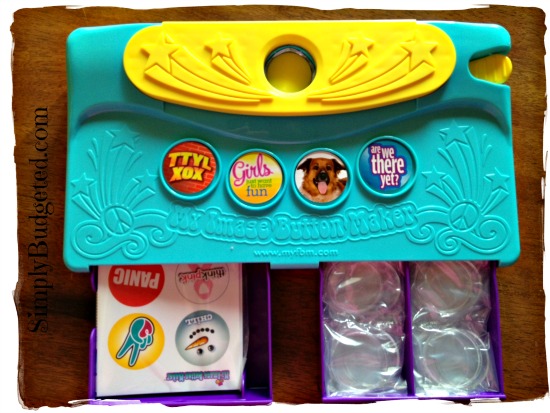 Here are the contents of the drawers …
We decided to use the images in the kit for our first time using the kit. I let Grace go first and show the process. She cut the circle out by putting it in place and pushing the button on the side. She placed the circle in the top. I put the pin in the back for her and she snapped in it place. I couldn't believe it was that simple. No crimped edges. No picture falling out. A perfect button! Grace couldn't put it on her shirt fast enough.


Sophie and Matthew couldn't wait to make their buttons. I couldn't resist either and made a PANIC button. I love it!

Next time we plan to use the software and our own pictures. Matthew really wants a button with grandma's picture. I guess the next trip out there we need to be sure to get he perfect picture for his button!
My Image Button Maker is available on Amazon under Prime shipping!

If your kids love buttons as much as my kids do, this is a great no-mess summer craft they can keep working on through out the summer. Who would love the button maker at your house? Leave me a comment and let me know!