I participated in a campaign on behalf of Mom Central Consulting for Cascade Platinum. I received a product sample to facilitate my review and a promotional item as a thank you for participating.
 Did you know? 
Gail Simmons has partnered with Cascade to discuss why presentation is just as important as preparation! Gail recommends impressing with a Platinum Presentation: "The easiest recipes pop with unexpected, gourmet presentations. Drizzle bright sauces on sparkling white plates or layer desserts in crystal-clean glassware. Keep your presentation sparkling with Cascade Platinum, which keeps dishes perfect for anytime entertaining and impromptu guests."
We decided to try Gail Simmon's Sugared Doughnut Holes With Raspberry Compote and Caramel recipe then challenge Cascade Platinum with the dirty dishes. Plus who can say no to a doughnut?!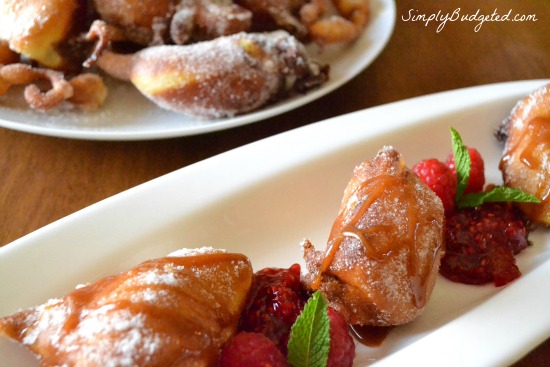 Sugared Doughnut Holes with Raspberry Compote & Caramel

By Gail Simmons

Serves 4 (makes about 16 doughnuts)

RASPBERRY COMPOTE
1 1/2 cups fresh raspberries, gently rinsed
1/3 cup water
1 teaspoon fresh lemon juice
1 teaspoon lemon zest
1/3 cup superfine sugar

CARAMEL
1 cup sugar
¼ cup water
½ cup heavy cream
Pinch of course salt
2 tablespoons butter
1 vanilla bean, scraped or 1 teaspoon vanilla extract (optional)

DOUGHNUT HOLES
1 1/4 cup superfine sugar, divided
1 stick unsalted butter
1/2 cup cold water
pinch of kosher salt
1 cup + 2 tablespoons all-purpose flour
4 medium eggs
3/4 gallon peanut or vegetable oil, for deep-frying

Make the compote: Set a medium sauté pan over high heat, add raspberries, water, lemon juice and zest, and sugar. Cook for 10-15 minutes until mixture is reduced and thickened and berries fall apart. If compote gets too thick or starts to burn, add a little water and adjust heat. Remove from heat and allow compote to cool slightly. Serve warm or at room temperature with beignets. Compote can be refrigerated for up to a week if not used immediately.

Make the caramel: In a medium saucepan over medium-high heat, mix together the sugar and water until moistened. Heat, stirring until the sugar dissolves and the mixture begins to boil, then stop stirring. Allow to boil vigorously until the liquid turns a deep amber color (be careful as caramel can change from amber to burnt very quickly). Remove the pan from the heat and carefully pour in the cream and add a pinch of salt. Stir the mixture constantly until very smooth, scraping the bottom to ensure there are no lumps. If needed, return the pan to the heat briefly to help smooth it out. Add the butter and vanilla and stir to dissolve completely. Allow to cool for a few minutes before using.

Make the doughnut holes: Pour one cup of superfine sugar in a flat, rimmed dish for coating and set aside. Prepare dough by combining butter, remaining 1/4 cup sugar, salt and water in a medium saucepan and set over high heat. Bring to a boil then remove from heat and dump in the flour all at once. Using a wooden spoon stir well until the mixture comes together as a ball. Add eggs, 1 at a time, ensuring each is fully incorporated before adding the next – the dough should be nice and glossy when finished. Note: doughnut holes can also be served with chocolate sauce or any other favorite fruit preserve (try strawberry or peach)!
The doughnuts were amazing and totally worth making again but the mess in the kitchen was slightly insane. Now you can see why I don't love the Dish Washing Mommy job around here most days!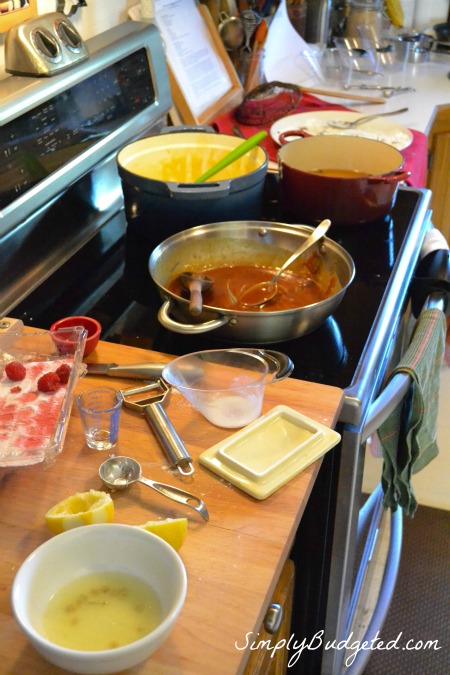 Last week we mentioned that Cascade is hosting an Instagram contest right now! This week's theme is My Platinum Bite (Entry Period: 6/10-6/16) – Show us your best bite and most creative use of sparkling silverware! If you want to think ahead the next two themes are:
My Platinum Clink (Entry: 6/17-6/23)

 Show us how you serve up creative concoctions in sparkling glasses. Cheers!

My Platinum Table (Entry Period: 6/24-6/30) 

Show us your sparkling tablescape for your most special celebrations!
Here was the best bite … the bite we saved for after the kids went to bed!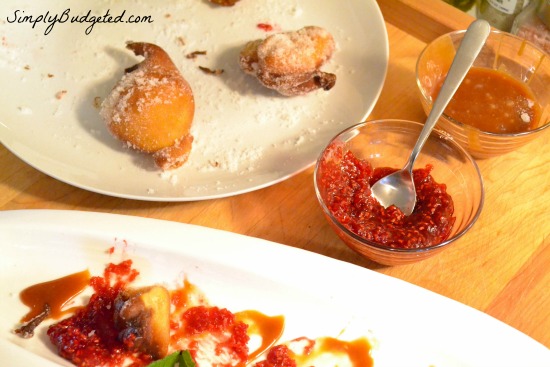 See how messy that plate was. We gave it a little rinse and then put in the dishwasher. Brian thought he was going to go crazy putting it in the dishwasher THAT dirty. He didn't believe it would come clean. We even added the caramel and raspberry compote bowls in the top of the dishwasher with no scrubbing. We were up bright and early for an event out of town but Brian had to check the dishwasher before we left. This is what he found.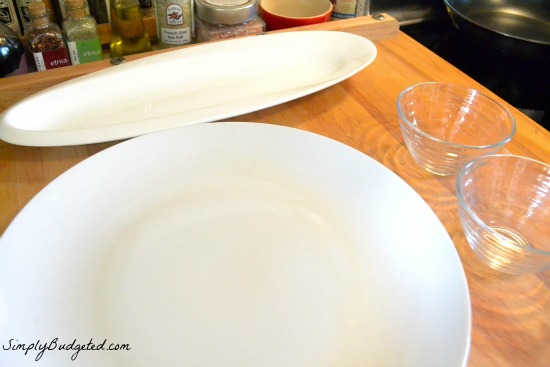 Needless to say he was impressed! He even rubbed his fingers over them to see if anything was still stuck on them. They are sparkling clean thanks to Cascade Platinum! As you know, Brian loves photographing food for recipe posts here on Simply Budgeted and over on This Cookin' Dad. Cascade Platinum is definitely help keep his plating dishes sparkling clean!
Have you tried Cascade Complete yet? Could you give up prewashing your dishes and trust your dishwasher to get the plates sparkling clean? Leave us a comment and let us know!