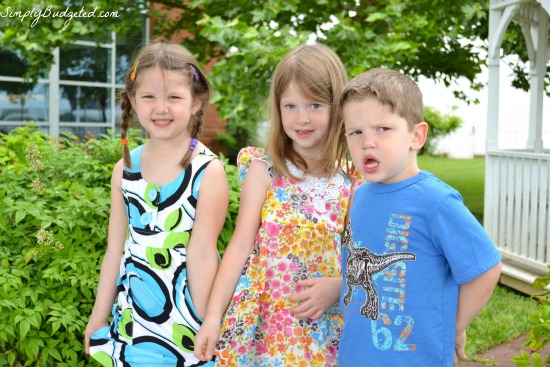 Summer vacation has officially begun in our house.  Sophie and Matthew have been finished with preschool for a couple of weeks already, but Grace just finished up on Friday.  They are already chomping at the bit to head out on adventures.  If it were up to them, we would spend the entire summer away from the house!
Unfortunately, we can neither afford to do that nor can we afford for Beth to be away from work for that long.  We try to plan one or two big trips each summer.  Outside of that, we just try to keep them hopping with affordable local activities.
With that in mind, here are our Top 5 tips for saving money with your travel plans this summer.
Tip 1:  Talk to Friends and Family
Some friends of my in-laws own a small townhouse in the northern Outer Banks.  Beth has known them since she was little and we are very fortunate that they allow us to use their beach house for a week during the summer.  Maybe you know someone who knows someone has a similar set up.  There's no harm in asking, right?  If you aren't quite that lucky, you can still ask around to see if you know of anyone who is planning a summer vacation similar to yours.  If you start planning early enough, you could get several families together and rent a larger place, keeping the per person cost well below trying to find lodging for just one family.  If you involve grandparents, you might just get out of paying for anything at all!
Tip 2:  Sign up for Social Savings Websites
Social savings websites like Groupon or LivingSocial regularly offer great vacation deals.  If you read the fine print, you can sometimes even apply your savings to an upgraded plan.  Last year, we purchased a coupon for a nearby campsite.  The deal was for a space way too small for our five, but we were able to upgrade and just pay the difference.  It's a great way to get some incredible savings.
Tip 3:  Subscribe to Local Vendors
Local vendors love to advertise on Facebook, local newspapers, and on their websites.  We bought passes to a local activity center for well over half of the value just because we Follow them on Facebook.  Do your research and find local attractions at your summer travel destination and you can save a lot of money.
Tip 4:  National Parks
The National Park Service has some excellent camp and cabin spaces and access to the parks is very cheap if you buy annual passes.  Our family of five can access the Shenandoah National Park as often as we want for only $30 a year!  With hikes, waterfalls, picnic areas, and scenic vistas only 30-45 minutes away, we can head out in the morning with our lunches and be back well before it's time to get started with dinner.  Plus, we'll have tired kids ready for a nap!  That's a great summer travel plan!
Tip 5:  Pack Your Own Food
It doesn't really matter which vacation hot spot you go to, it always seems like the food is marked up.  Since I buy so much on sale anyhow, I can just pack up some frozen meat and local produce in the car along with some sandwiches and drinks for the road and save a bundle on eating out.  I know it's vacation and no one wants to cook, but eating out three meals a day for a week is terribly expensive and just not good for you!
What is your best summer travel money saving tip?