Is it summer without s'mores? S'mores are often thought of a camping treat but around here they are often a "daddy-is-burning-brush" treat. I will add now that this happened a few weeks ago but I am just getting caught up on some of my posts to share our life on a budget!
Brian always seem to have a burn pile out back (no trash, just leaves, branches, trees that come down, etc.) We finally cleaned up the logs from storms last summer so we could stumps ground up. That meant the burn pile was too large. Brian wanted make sure he burned it down so he could mow around it. The burn pile is a safe but not far distance from the playground and we didn't want any animals living under all of the brush that had been drying out.
The best part of this burn pile was it was super dry. It lit up like a candle. That also meant it was SUPER hot. Brian wouldn't let anyone roast their marshmellow so he made several trips back and forth so each person could get one s'more.
Here comes the confession … I couldn't find a chocolate bar the night he decided to burn the brush pile. How is that possible?! I did find an Easter chocolate bunny though so we used that! oops! I need to make sure we get s'more supplies for our August camping trip. The kids will be excited to have s'mores again with Brian's parents! You can see how excited they were this night. Oh and yes, they are in their pajamas with wet hair in the backyard. It was bath night and almost bedtime … you can't pass up a s'more though!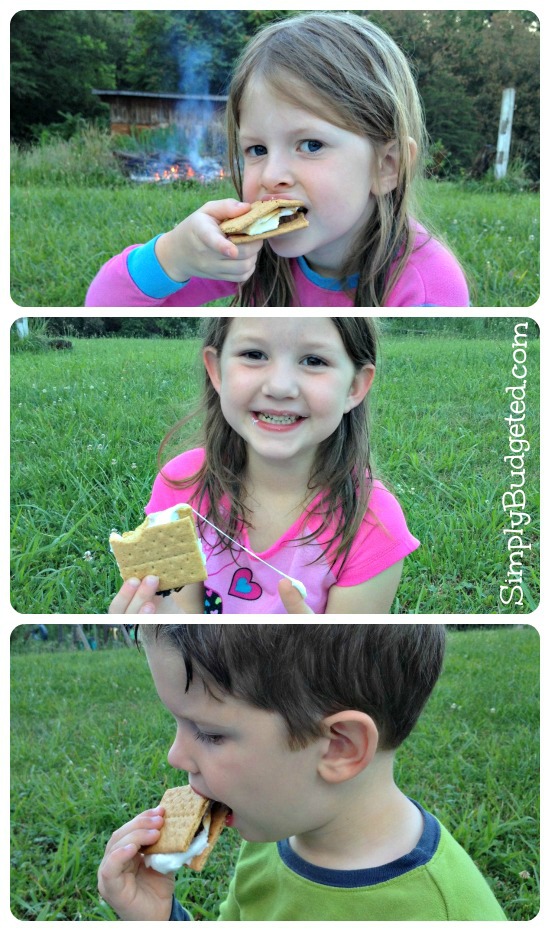 Do you make s'mores during the summer? Any fun twists on this camp fire or backyard fire favorite summer treat? Leave me a comment and let me know!