Thanks to Hodgson Mill for making this Greek pasta salad post possible.  I was provided with product samples and am using this post as a contest entry.  All thoughts and opinions are my own.
I love pasta salad!  It is such a great foil for so many flavors.  I grew up in the south with the traditional creamy macaroni salad.  I've even seen the simplicity of pouring Italian dressing over cooked noodles.  Really, with a little imagination, you could transform just about any traditional salad into a pasta salad.  It can act as a filling main dish, or a lovely side.  Seriously, what pot luck or barbecue is complete without some sort of pasta salad?
Personally, I like to create bold salads that represent different areas around the world.  Think about any sort of cuisine that you love.  What are the flavors that you think about most from that area?  When I think of Greece, I think of feta, black olives, and oregano.  The traditional Greek salad will always have tomatoes, cucumbers, and red onion, three of my absolute faves!  When you put all of those ingredients together with some whole wheat pasta, you have my tart, salty, and tangy version of Greek pasta salad that will just knock your socks off.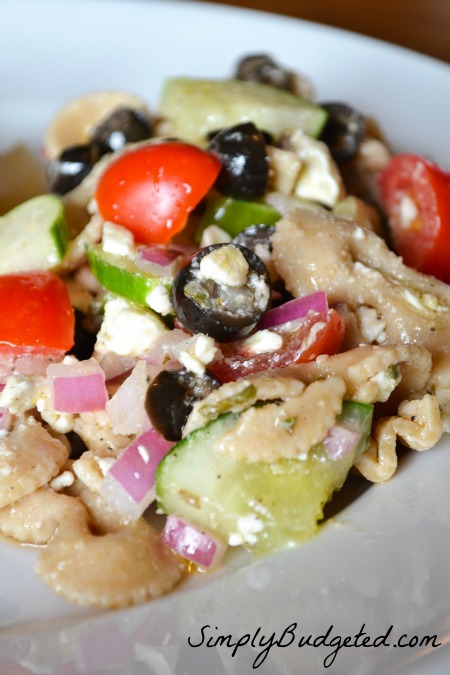 Greek Pasta Salad
I like the bow tie pasta in this dish because it kind of dresses things up a little and it's always nice to dress up for a party.  When the feta sits with the dressing, it turns the dressing slightly creamy and salty in the best way.  Yum!
Ingredients
1-10 oz box Hodgson Mill Whole Wheat Bow Tie pasta
1/4 cup plus 1 Tbs red wine vinegar
1 Tbs lemon juice
1/4 tsp garlic powder
2 Tbs chopped fresh oregano
salt and pepper to taste
2/3 cup olive oil
10 grape tomatoes, quartered
1/2 cucumber, sliced and slices quartered
1/2 small red onion, diced
1-3.8 oz. can sliced black olives
6 oz crumbled feta cheese
Directions
Prepare pasta according to package directions in a pot of heavily salted water.
While the pasta is cooking, combine the vinegar, lemon juice, garlic powder, oregano, salt, and pepper.  While whisking the vinegar mixture, slowly add the oil.  Reserve half of the vinaigrette.
Thoroughly drain the pasta and return to the pot to finish drying.  Pour the warm pasta into half of the vinaigrette and coat thoroughly.  Allow to cool to room temperature.
Add veggies and feta and carefully combine.  Add more dressing as needed to make sure that the salad is moist, but not wet.  Refrigerate for 3-4 hours before serving.