"I participated in a campaign on behalf of Mom Central Consulting for Gold Bond. I received product samples and a promotional item as a thank you for participating."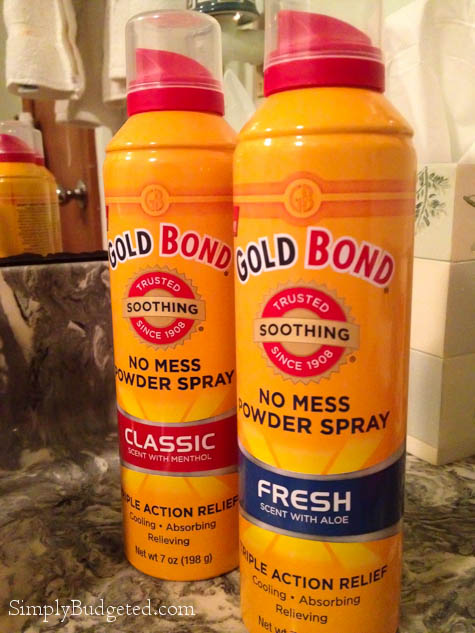 One thing that Beth loves about me is that I put off a lot of heat.  She tends to get very cold and she loves to snuggle up and steal away my heat.  While this is great during the winter, during the summer, it means that I am just hot…all the time!  It also means that I tend to sweat a lot.  On hot days, I definitely have to change my shirt.  If I'm working out or working outside, I might have to change it twice.
When I was in the Army, I found that this can really take a toll on your feet.  All of that sweat leads to soaked and bunched up socks.  That leads straight to huge blisters.  I used Gold Bond Powder just about every day while I was in.  Gold Bond is the gold standard for foot relief.  It has been around for generations.  Gold Bond not only keeps your feet cool and absorbs any moisture, it also provides relief after a long day on your feet.  When I was in Iraq, I must have used it two or three times a day.
The problem with any foot powder is the residue that hangs all over the place when you apply it.  You put some powder on your feet and have to reach right for the broom.  Gold Bond has helped to solve this problem with their new No Mess Powder Spray.  You can direct the spray right where you want without all of the extra mess and the waste.  Personally, I'm partial to the classic scent, but the new fresh scent is kind of nice.  I'm getting used to it.  I'm really hoping that they come out with a No Mess Powder Spray in the Medicated version soon.
Do you have troubles with sweating too much during the summer or during a workout?  Why do you choose Gold Bond?  Leave us a comment and let us know.