We are excited to bring a sponsored review of the MagneTalk Match-Up Adventures Kit by Super Duper.  We received a product to facilitate this review.  All thoughts and opinions are my own.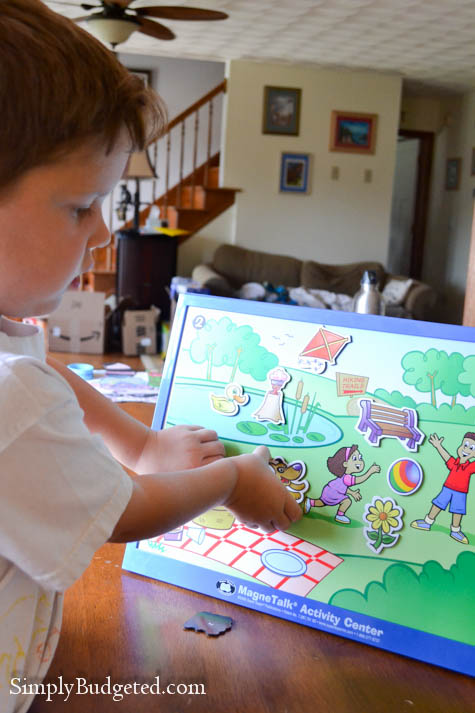 Details …
This one of a kind, magnetic masterpiece targets a ton of language and listening skills. Best of all, the barrier game format is perfect for following directions, giving directions, storytelling, improving vocabulary, and a whole lot more! Your students will have a blast going camping, swimming through the ocean, and traveling to outer space while learning to listen and use language effectively. The kit even includes a reproducible workbook (with a French translation on the CD-ROM) to make homework and group activities a breeze. It targets:
Following directions
Deductive reasoning
Giving directions
Vocabulary

Auditory memory
Storytelling
Basic concepts
Categorization
The Magnetalk Match-Up Adventures set includes:
10 magnets for each game board (100 magnetic pieces)
34-page reproducible activity book with a CD-ROM (that includes a French translation) for easy printing
Dry erase marker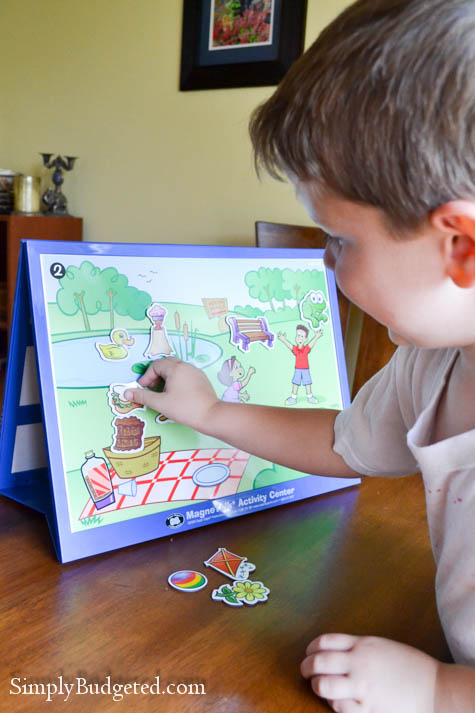 My Thoughts …
All three of our kids love this game.  It is so much fun to watch the oldest help the other two tell and remember stories using the activity board.  Even when Matthew decides to play on his own, he can make the story as serious or as silly as he wants.  He can put an anthill in the water and the ducky in the trees.  What a silly boy!!
Storytelling concepts are incredibly important for early readers to learn.  Once they start to get the ideas of stories down, remembering details and main ideas from those stories can really help them to move to the next level.  The MagneTalk Match-Up Adventures Kit helps all three of my kids at their levels and can help them to grow into the next.  This is really a great product!