Thanks to Minute Rice for making this post possible.  All thoughts and opinions are my own.
We are so blessed!  We have a great blog (ok, I'm biased!) and we get to review and give away amazing products all of the time.  We also work with some really wonderful companies who are willing to help us give back to our local community.
Recently, we partnered with Minute Rice to feature a recipe on the blog here.  While we were not offered any monetary compensation, we did negotiate for them to provide some product for our local food pantry in addition to the two boxes that we received for review.  We were overwhelmed when we received 18 boxes of Minute Rice's new Multi-Grain Medley.  That's enough to provide a family of four a starch for dinner for over a month!!
One of the best parts of these opportunities is the chance to share the experience with our kids.  On the day that I was to deliver the rice, Sophie just happened to be sick.  As such, she got to help me out!  Just take a look at some pictures of this operation.
We live in a pretty small community, but we still have plenty of people in need.  This food pantry is only open two days each week, so people make it a point to be here as soon as the doors open up.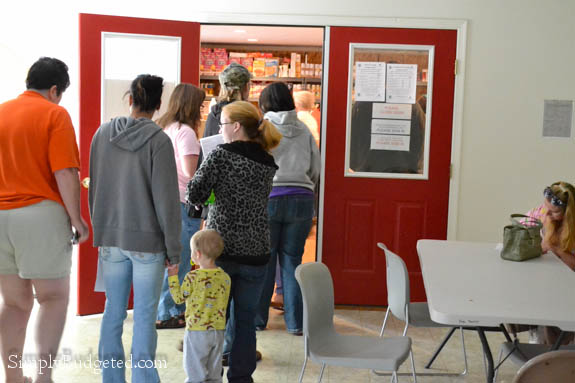 This is a pretty small organization, but they surely have their acts together!  Look at how well organized they are.  Still, every little bit helps and the Minute Rice Multi-Grain Medley was pretty well received.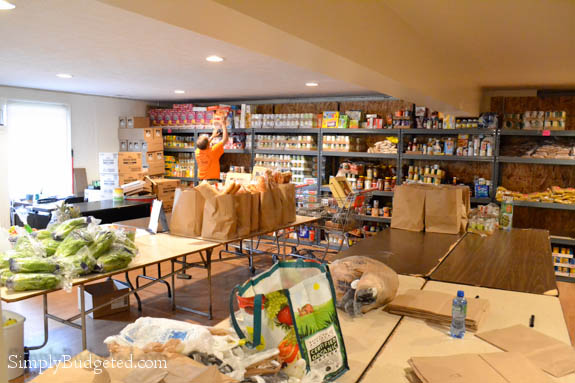 This gentleman was working his tail off, accepting my donation, organizing this and other donations, and putting together bags for the people who need it.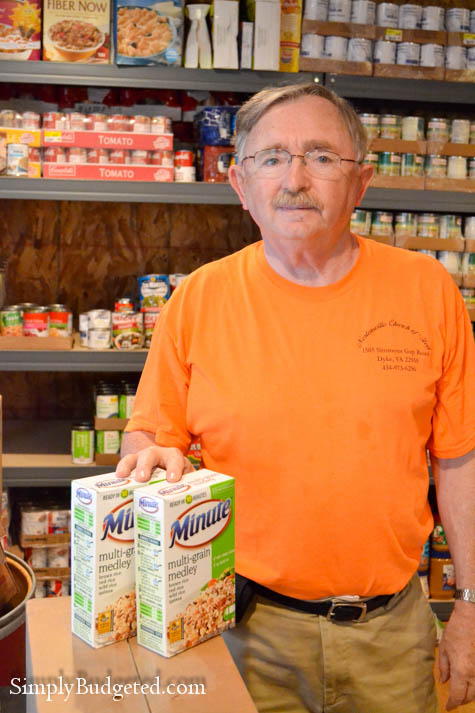 My little Sophie was so happy to help out her daddy.  The gentleman above made sure to take a few extra seconds to offer her a small bag of fruit snacks.  What a giving individual!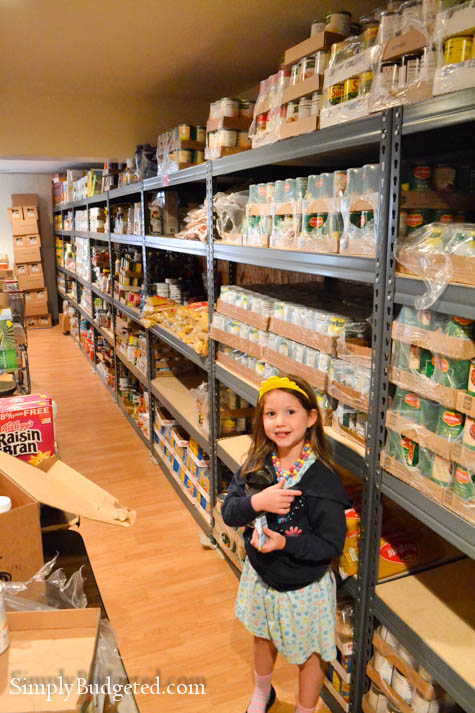 The local food pantry takes donations from local individuals, but also from local stores.  Day old bread might not be great for sales, but it's fine for eating.  (Plus it makes great French toast!!)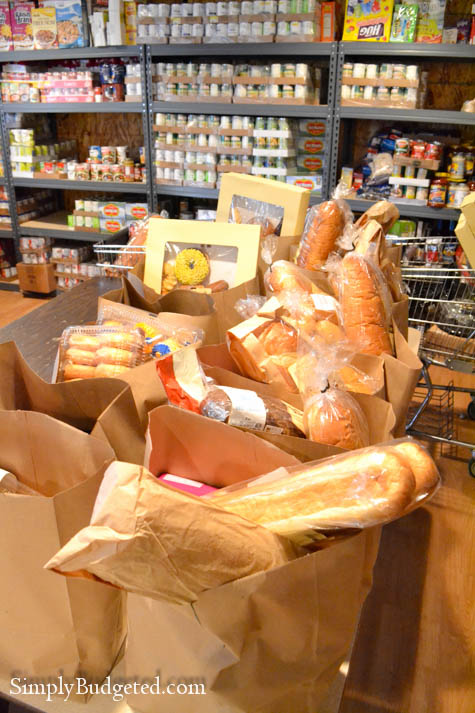 Fresh produce is one of the more expensive items to purchase at the grocery store.  I'm so happy to see that they have plenty to offer up to the individuals seeking assistance.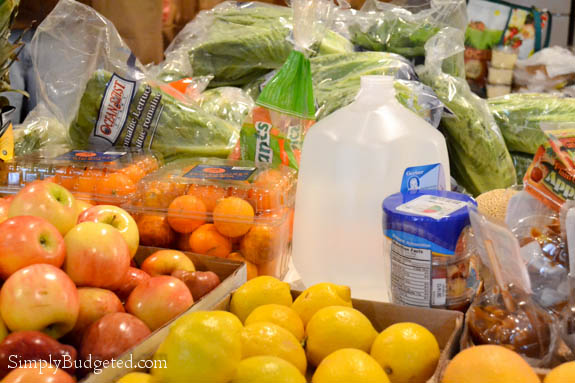 The volunteers at this food pantry work so hard.  I hope that everyone appreciates how much they give of themselves.  Hopefully they have their own Minute Rice at home to help them make a quick, easy dinner!  Maybe they can try out this recipe.
Cilantro-Lime Success Rice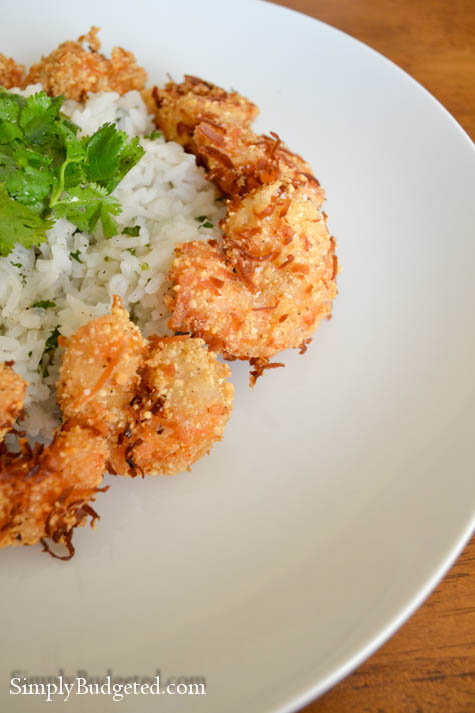 This rice dish was fluffy and had the great tartness from the lime and freshness from the cilantro.  The flavors were clean and no one ingredient overpowered the others.  It served as an incredible side for some scrumptious coconut shrimp.  Keep an eye out for that recipe!
Ingredients
2 bags Success Boil-in-Bag Jasmine White Rice
1 lime
1/4 cup chopped cilantro
salt and pepper to taste
Directions
Prepare the Success Rice according to package directions.  Grate the zest and juice of the lime into the prepared rice.  Add the cilantro, salt, and pepper.  Enjoy!
 Broccoli and Success Multi-Grain Melody Rice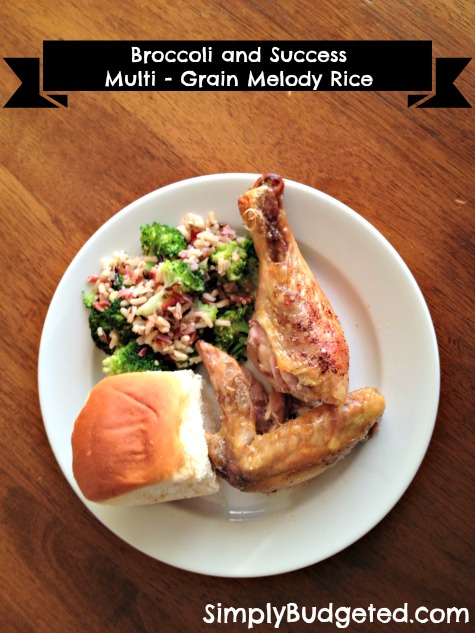 Ingredients
1 bag Success Boil-in-Bag Multi-Grain Rice
1 head of broccoli
1/4 cup of Olive Oil
salt and pepper to taste
Directions
Prepare the Success Rice according to the package directions. Saute the broccoli in the Olive Oil. Add the rice to the broccoli in the saute pan. Stir often while combining flavors and giving the rice a bit of a crisp. Add salt and pepper to taste. Enjoy!
How do you give back to your local community?  Share your story with us!  Thanks!