I love crafts. Let me clarify that, I love my crafts. Kids crafts are another story as I really hate messes … paint, glue, glitter, oh my. Yeah, I don't do well with kid craft messes. My kids LOVE crafts though.
Brian kindly got my box of items empty containers down from the high self in the garage last night. The planned craft was a perfect craft for me. No glue. No glitter. No paint. It did involve Sharpies but Matthew coloring on himself has taught me how to scrub Sharpies off skin so I can handle that.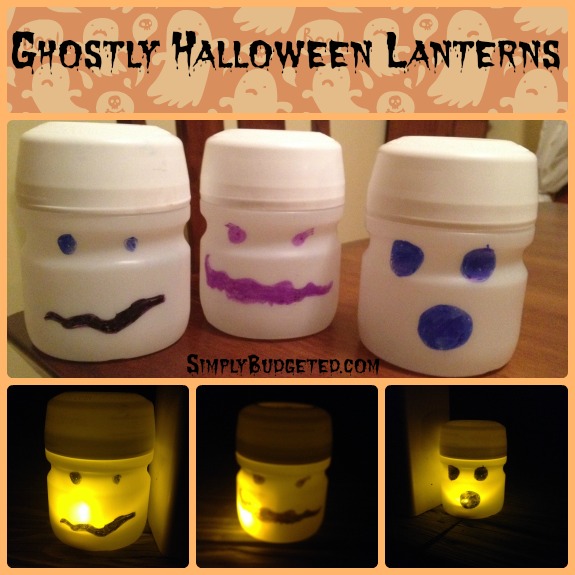 Ghostly Halloween Lanterns
Supply List
Empty powder drink containers (like the lemonade, Tang, etc.)
Sharpies
Battier powered tea lights
Play Sand or rocks (optional)
Directions
Clean the containers and completely dry them.
Use the sharpies to draw the ghost on the bottom half of the container.
(optional) Add play sand or rocks to weight container to keep the wind from blowing it away!
Turn the tea light on and put the tea light in the container.
Screw the lid on the top of the container.
The kids loved making their Ghostly Halloween Lanterns! It was a perfect after dinner craft since it didn't take a long time to complete.
See the perfect no mess craft for the mom that doesn't love paint, glitter, and glue! Enjoy this Halloween craft with your little ones.