It's getting close to the holiday season and that means it's time to get baking and I can hardly wait for all of the yummy sweet treats.  Thankfully, I have an excuse to get started!  Dixie Crystals and Imperial Sugar are hosting a Cookie Contest for a chance to win a free ticket to Mixed and a grand prize of $500!!  In response, I am offering up my Oatmeal Cranberry Pistachio Cookies.  YUM!!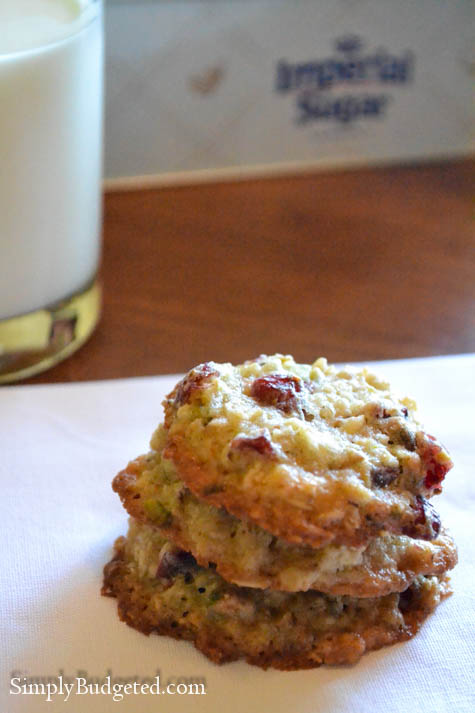 Mixed is a cool little conference for food bloggers.  It's very small, meaning that you actually get a chance to know some of the bloggers and presenters.  It's also located at the lovely Mountain Lake Resort in Southwest Virginia.
It's pretty close to where we live now, but it is even closer to Virginia Tech, where Beth and I met, fell in love, and where I eventually proposed to her.  As it happens, my grandmother also lives just a few miles away.  All in all, it's a great trip with some gorgeous views and some great connections to my life.  I went last year and had a blast.
This year, I'm looking forward to taking Beth down to participate in all of the fun.  To help with that, I made up a batch of Oatmeal Cranberry Pistachio Cookies.
The typical oatmeal cookies use darker sugars (brown sugar, molasses, etc) and cinnamon to achieve a deep, rich flavor.  I decided to clean it up a little bit, opting for white sugar and light corn syrup so that the tartness of the cranberries and the saltiness of the roasted pistachios really shines through.  Boy did it work!  The cookies have that sugary crunch, coupled with the chewiness that we all love from an oatmeal cookie.  Then you get the sweet, the tart, and the salty…all in one bite.  These are cookies that I am proud to share with you all.  Enjoy!!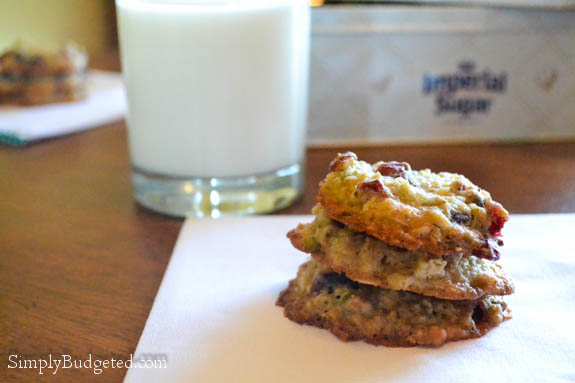 Oatmeal Cranberry Pistachio Cookies
Ingredients
6 oz (about 1 1/2 cups) dried cranberries
1 cup dark rum
2 sticks unsalted butter, softened
1 1/2 cups Dixie Crystals or Imperial Sugar
1/4 cup light corn syrup
2 large eggs
2 1/2 cups rolled (or old-fashioned) oats
1 1/2 cups all-purpose flour
1 tsp baking powder
1 tsp salt
1 cup roasted, salted, and shelled pistachios, chopped
Directions
Combine cranberries and rum.  Set aside to soak for 10-20 minutes.
In a large bowl or stand mixer, cream the butter and sugar on medium-high speed until fluffy, about five minutes.  Add corn syrup and beat another 2-3 minutes.  Add the egg and beat another 2 minutes or until the mixture is smooth.
Combine oats, flour, baking powder, and salt in a large bowl.  Reduce mixer speed to low and add the oat mixture in two stages, until fully combined.  Drain the cranberries, reserving the rum, and stir in the cranberries and pistachios by hand.  Cover and set in the refrigerator for at least 4 hours.
To cook:  Preheat oven to 350.  Line baking sheets with parchment paper.  Form the dough into balls of 1-2 Tbs each and arrange on the baking sheets leaving approximately 3 inches between each cookie.  Flatten slightly with the back of a spoon or fork.  Bake 10-12 minutes or until cookies are just set.  Allow to cool 5 minutes on the baking sheets before transferring to racks to cool completely.
Bonus Recipe!  Take about 2 Tbs of that reserved rum and combine with 8 oz of ginger ale for a great little treat to go with your cookies.  Enjoy!!
Are you itching to get baking for the holidays?  What is your favorite go to treat this time of year?
This post serves as my entry in the Mixed Pre-Conference Cookie Contest sponsored by Dixie Crystals.