We are excited to have the opportunity to provide a sponsored review of the Auditory Memory for Short Stories from Super Duper!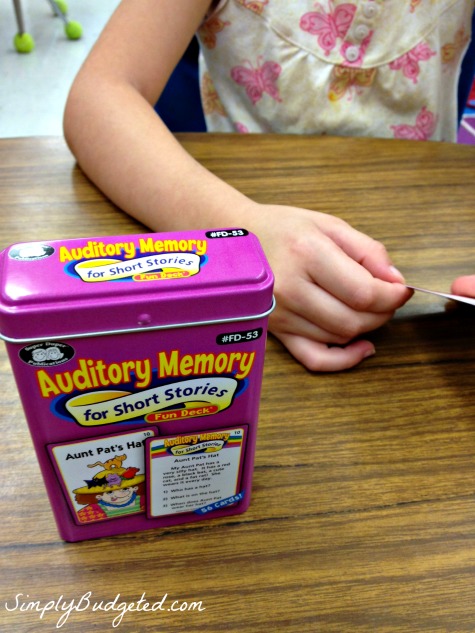 Details …
Auditory Memory for Short Stories Fun Deck

Listen to short, silly stories like "Aunt Pat's Hat," "Hannah's Bananas," or "Ollie the Octopus"—and then answer questions about each story. The picture and story title are on one side, while the flip side has the story, along with questions for children to answer. These 51 imagination-filled illustrated cards provide a novel approach to improving your students' auditory memory skills. As a special bonus, the deck has game ideas and five open-ended "Wh" topic picture cards to help children make up their own stories and questions. Cards measure 2 ½" x 3 ½" and are stored in a sturdy storage tin.
My Thoughts …
I wish I had found this simple deck of cards two years ago when Grace was in Kindergarten.  One of the things that she always struggled with was getting some sort of comprehension out of the stories that she read.  She could read all of the words with no problems, but understanding and being able to answer questions from the story always frustrated her and held her back from the next level of her reading.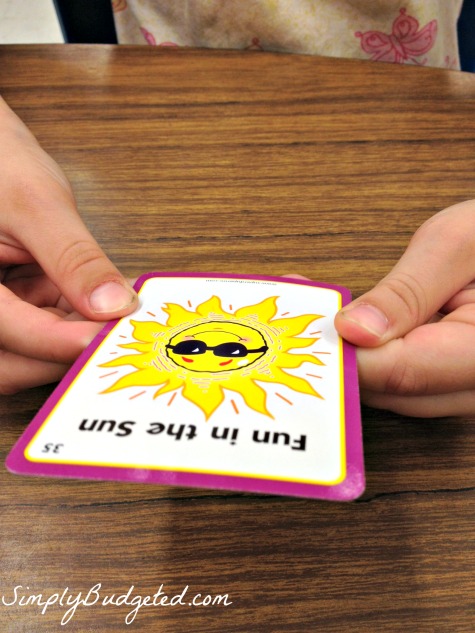 Using these cards with Grace, Sophie, and Matthew, I find that I can direct things to be a little more difficult for Grace and just take Matthew through one sentence at a time rather than expecting him to get it all in one go.  When I tried them out in Sophie's Kindergarten class, the kids were overjoyed with the silly stories.  Though they were all challenged to listen and understand the stories and questions, the cards forced me to work with them individually at their level and not in large groups.  I could see who was struggling and help them get it.
These cards are very portable, attainable for any child, and should be in the toolbox of any teacher or parent who works with early readers.  I highly recommend them!