Thanks to the Collective Bias®  Social Fabric® Community for making this post on Forza 4 and M&M's® possible.  All thoughts and opinions are my own.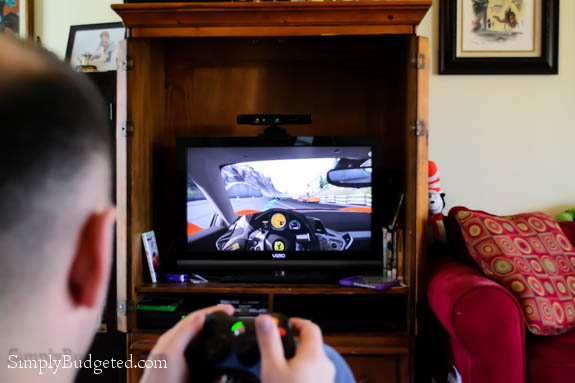 To say that our kids hog the living room TV would be an understatement!  Even if they aren't watching the TV, odds are that they have claimed most of the floor with Barbie dolls, dinosaurs, or cars or have set up a whole tent system with blankets, claiming all of the seats in the room. It's tough because it's the only room in the house really suitable for gaming, but I can't really play the games that I prefer to play with my 4-year-old in the room.  That's why I love the, oh so infrequent, days when all of my work is done for the week and I can spend the 3 hours that Matthew is in preschool playing on my XBox 360.  Even better are the days when Beth is off of work and can join in.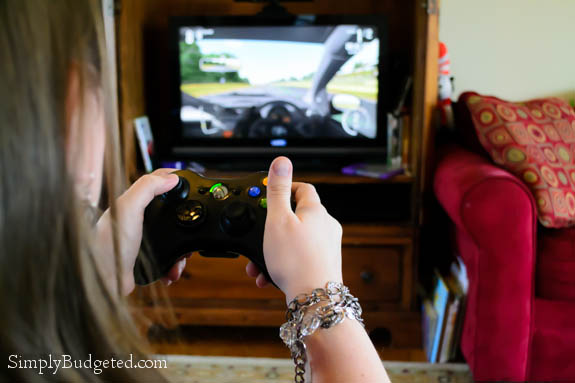 Beth is not a big gamer and tends to prefer shorter-lived games.  That's why racing games like Forza 4 are great for her!  She can run a track or two, play for 15 minutes or so, watch me run a few, and then move on to something else while I continue playing.  She can hop in here and there as she likes.  No big deal!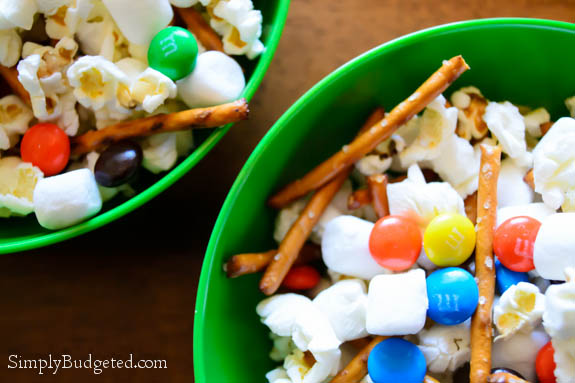 Any good gaming session requires a good snack.  Personally, I want something that is sweet and salty with a nice crunch.  A few months ago, I just threw together a snack with a few different items for Sophie, our middle child.  It was primarily pretzels and popcorn mixed together and she got it all mixed up in her head and called in a "mixical".  We've been making different variations of mixicals ever since.  One of my favorites combines the saltiness of pretzels and the chocolatey goodness of M&M's® with the gooey texture of marshmallows and the fluffiness of popcorn.  It is incredibly delicious and it's easy to grab a small handful while waiting for the next race to load.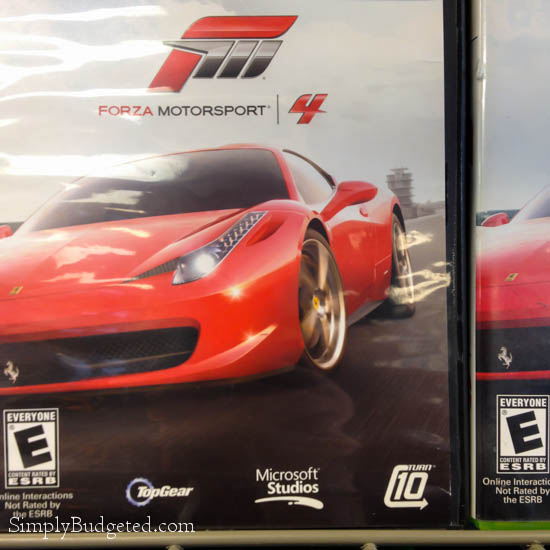 If you look hard enough, you can still find Forza 4 for XBox on shelves, but most of the larger stores are moving it out to make room for Forza 5 for the new XBox One, both of which come out on November 22.  I am so excited for the new XBox One!  While Beth won't let me get one just yet, I am trying to convince the kids that they really want one for Christmas.  We'll see how that turns out.  I'm really hoping for the chance to win one and I may just get that chance thanks to M&M's®.  You could, too!  Here's how!
M&M's Gaming is Better with M Pixel Art Contest
Get creative with M&M's ® and win an Xbox One gaming with M pack!
Create your own Pixel Art using M&M's® candies and snap an Instagram Photo. Tag your image with #FueledByM AND #Contest and post the image on Instagram and Twitter.  One lucky Pixel Artist will win a new Xbox One and Gaming is Better with M prize pack including the Forza 5 Motorsport game and a 14 oz bag of M&M's®.
The contest runs Dec. 4th – Dec. 18th and the winner will be chosen at random.
I don't know about you, but I am ready to get my M&M's ® art on and win me a new XBox One!
If you are already planning on buying the system and the new Forza 5 game, make sure you grab a bag of M&M's® while you're at it for a great reward.  It's easy to remember…Buy, Snap, Redeem.
Buy:  Buy Forza 5 and a participating M&M's® product (Participating products include: M&Ms Peanut 42oz Stand Up Pouch, M&Ms Milk 42oz Stand Up Pouch, M&Ms Peanut Butter 38oz Stand Up Pouch, M&Ms Pretzel 30oz Stand Up Pouch, M&Ms Peanut 19.2oz Large Laydown Bag, M&Ms Milk 19.2oz Large Laydown Bag, M&Ms Peanut Butter 18.4oz Large Laydown Bag, M&Ms Pretzel 15.4oz Large Laydown Bag.)
Snap:  Snap a picture of the qualifying items with your mobile phone and text it to 811811.
Redeem:  You'll receive a text back with a reward code valid for a $10 eGift card to Walmart.
Are you planning on purchasing the new XBox One and Forza 5?  What is your favorite gaming snack?  Leave us a comment and let us know.