We are excited to with OREO on a sponsored campaign to feature their OREO Cookie Ball Recipe!
Are you getting ready for the holiday season? With Thanksgiving being later this year it feels like we need to get started on holiday planning a little earlier. The fall air here in Virginia has us longing for nights besides the fire place knowing it snowing outside.  Brian and I both love snow. Even if I don't love the drama and process the kids create when they want to go play in the snow, I love the snow. Since we live further out now, I have learned to love the sound of snow. You can step out on the porch and hear it piling up … that is one of my favorite sounds for sure.
To share our love of snow, we decided to put a twist on the OREO Cookie Balls recipe to make Snowy OREO Cookie Balls!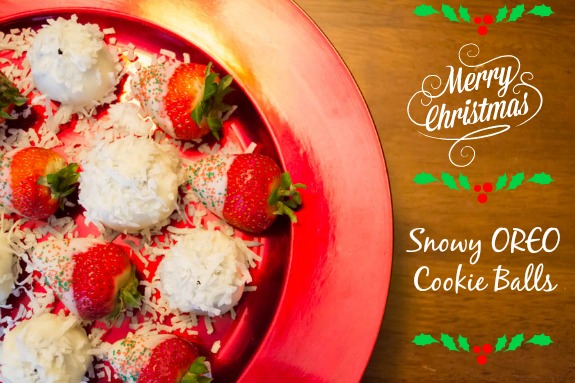 Snowy OREO Cookie Balls
Ingredients
1 pkg. (8 oz.) brick cream cheese, softened
36  OREO Cookies, finely crushed (about 3 cups)
24  oz. (2 packages) semi-sweet white baking chocolate discs, melted
1 bag of Sweetened Shredded Coconut
Directions
MIX cream cheese and cookie crumbs until blended.
SHAPE into 48 (1-inch) balls. Freeze 10 minutes (minimum … I found that freezer for longer was helpful!)
SPREAD shredded coconut on the wax paper-lined cookie sheet.
DIP balls in melted chocolate.
SPRINKLE the OREO Cookie Balls with the shredded coconut.
REFRIGERATE 1 hour or until firm.
We love how simple this recipe is. You can get the kids to help to break up the OREO cookies or you can take your holiday stress out on them! These are perfect for a party or to drop off to a friend as a great Christmas gift.
You can find more OREO Cookie Ball recipes online.
What would do you make the OREO Cookie Ball recipe yours? Leave us a comment and let us know!