We are excited to have the opportunity to provide a sponsored review of the Ask & Answer® "Wh" Bingo from Super Duper Publications!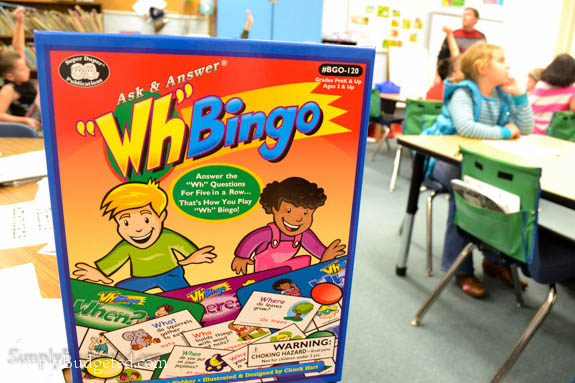 Details …
Wow! It's the Who, What, When, Where, and Why Bingo Game! Students will have many amusing times playing "Wh" Bingo as they learn to ask and answer "Wh" questions.

Who can play? – Children of all ages.
What is included? – laminated, full color bingo boards printed front and back (6 each of Who, What, Where, When, Why, and Combo; 8 1/2″ x 11″). 36 playing surfaces in all. 144 "Wh" calling cards (2 1/8″ x 3 5/8″). 200 bingo chips (assorted colors) and a plastic storage tub.
Why should you play? – This game will help students increase their comprehension and verbal expression of "Wh" question skills.
Where can you play? – Anywhere! School, home, in the car, etc.
When can you play? – Anytime!

When your students ask for "Wh" fun, answer them withAsk & Answer® "Wh" Bingo! 2 to 6 players.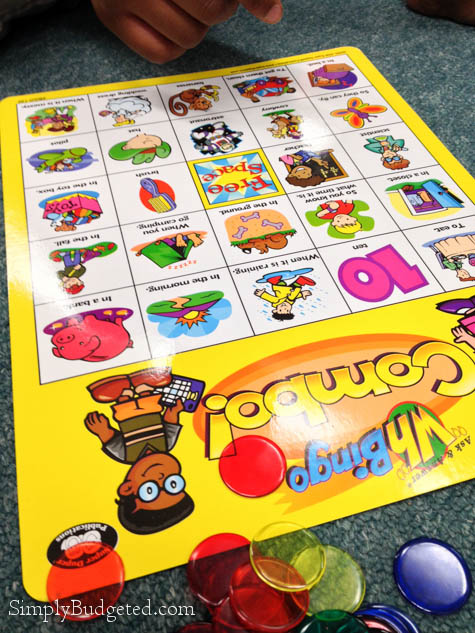 My Thoughts …
I got to share "Wh" Bingo with Grace's 2nd grade classroom.  The teacher and the kids were all pretty excited!  When I spoke with the teacher about it, he knew that it would be a perfect fit because the class is working on all of the parts of a story, the characters, setting, events, etc.  These can all be asked by using these "Wh" questions!
Personally, my favorite part of these games is working to target them to different ability levels.  Some of the kids were still struggling with the questions or with a particular part of the story, so we played "Wh" Bingo in the traditional way.  We matched up the questions to the answers, had a winner, and switched cards to try again.  The kids had a blast shaking things up from the norm.
For the kids who had that part down pretty easily, I was able to challenge them by setting out the different Who?, What?, When?, Where?, and Why? cards, having them pick randomly, and then make up a story based on the cards that they picked.  The stories turned out completely silly, but only served to further their interest in the story-making process.  What fun!!
The game can be scaled for different age groups and is tons of fun to boot.  At some point, the kids even forget that they are learning.  Love it!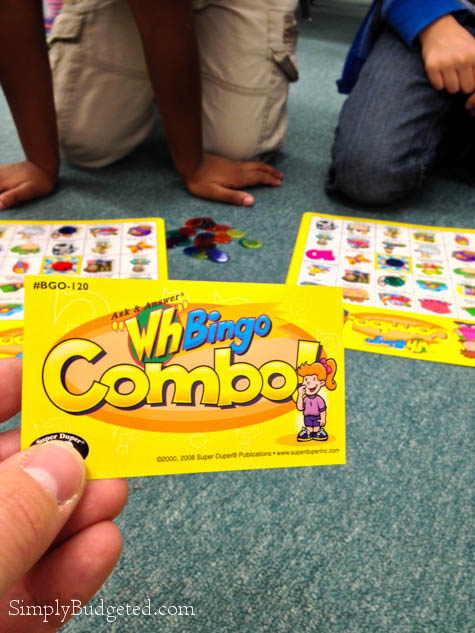 Who would love to play "Wh"Bingo at your house? Leave us a comment and let us know. Oh and check out Super Duper for great learning gifts this holiday season!