Here I am playing catch up again. I don't where my kids are getting germs from this year but this mommy can not handle kid germs it seems. Day 18 was what day … Friday? I think that was right. Brian was in charge of Elf on the Shelf hiding that night. He put the Elf on the Shelf, Kingston, on top on the cabinets in the laundry room. Let me explain that the laundry room is also the powder room/half bath for the main floor. It is all one room (poor design, I know.) Here was Elf on the Shelf even will the mess that is in there …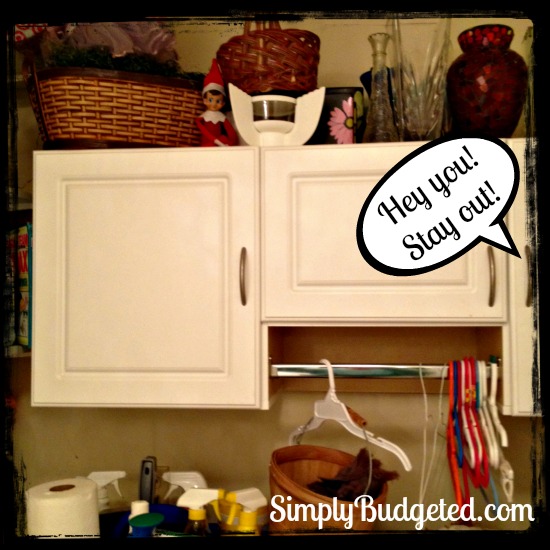 The kids were NOT thrilled that Elf on the Shelf was in the bathroom. They did not like the explanation that he was in the laundry room portion. Way to go Brian. Parenting fail for you once!  Dear Kingston has been banned from the powder room/half bathroom/laundry room/whatever-the-heck-you-want-to-call-it room! Sorry! Kids rules and I agree with this one for once! I mostly agree with the rule because Kingston did absolutely no laundry for me on Friday when he spent the day in the laundry room. Lazy bum!
Does your Elf on the Shelf have rules?  How is the The Elf on the Shelf 
 going at your house? Follow along with Kingston this year with the Kingston 2013 tag here!