We had a MEGA magical event at our house Saturday night. MEGA folks. Not only do we have our visiting Elf on the Shelf, Kingston, but the TOOTH FAIRY came too. The tooth fairy came because Grace lost TWO teeth! WOW! I had to break my rule of doing more than just moving the Elf the Shelf except on Sophie's birthday. So the Elf on the Shelf made Grace a card and his own wings.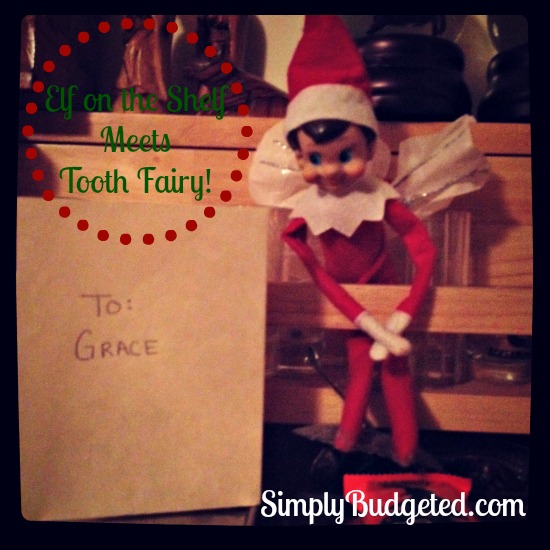 Brian and I had a debate about the wings. Brian said that the Elf on the Shelf didn't need wings. True BUT he was meeting the TOOTH FAIRY. Come on! I couldn't figure out how to write about the wings in Grace's note (see below) so I left it out. Little did I know the kids would debate on if Kingston made the wings in our craft space or if the elves in the workshop made them for him. ugh. Parenting fail. Thanks kids. Mommy was sick. I had to dry that glitter glue with my hair dryer.  I had to get the glitter glue off MY NOSE from drying it with said hair dryer. Can't a mom get any credit?! Anyway here was the note …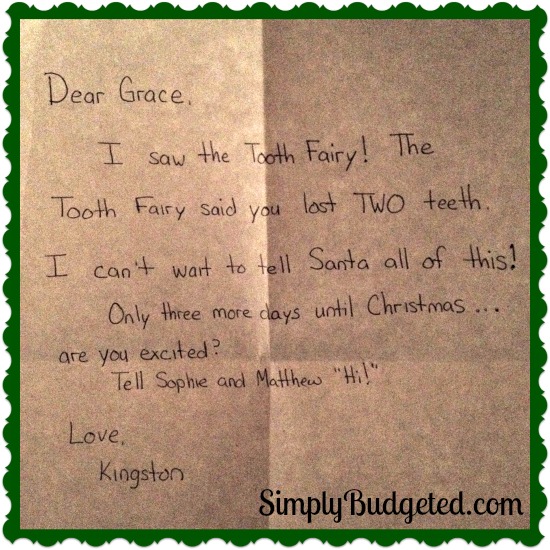 I did learn and took the picture minutes after I wrote the note. For once I was thinking because I have no idea where Grace put the note.
Has your Elf on the Shelf met the Tooth Fairy? What happened? How is the The Elf on the Shelf 
 going at your house? Follow along with Kingston this year with the Kingston 2013 tag here!