We are excited to feature a sponsored Pop Chef review.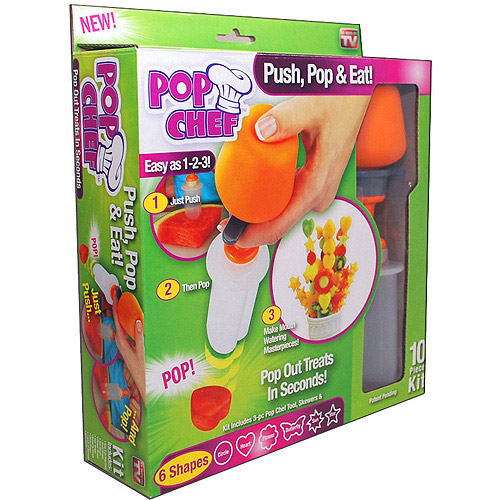 Details …
Pop Chef is the new, fast and easy way to make fabulous edible creations! The secret is its 3-in-one action – which shapes, pops, and creates stars, circles, hearts, and more without the mess or hassle of knives or cookie cutters. With Pop Chef you can design eye popping snacks,
party platters, meals, even gifts like a pro! It's a snack-tivity that's even safe for kids to use.
Perfect for use on fruits, cheeses, vegetables, breads and more, Pop Chef lets you "push" and "pop" your way through show stopping food preparations in seconds.
Our Thoughts …
Do your kids come home from school STARVING? Ours do and it is a struggle to have a good snack waiting for them that won't ruin dinner. We were excited to try the Pop Chef as an after school snack.
The added bonus to this snack is that the kids found it to be a great activity or even a food craft! They love making the shapes. The girls enjoy the hearts and Matthew enjoyed the circles it seems. Here is Grace working on a star shape pineapple piece!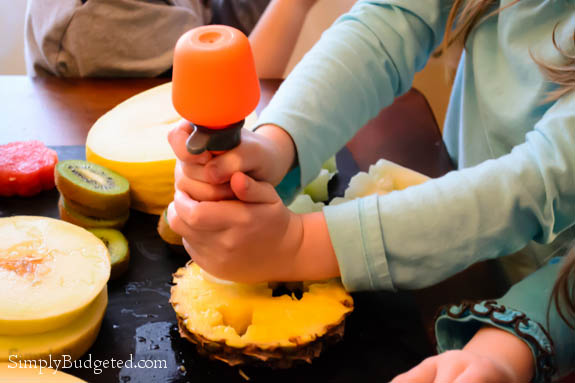 When we can make fruit a snack that is fun that is a success at our house! These would be perfect for a party … kids or adult. They are also fun for just an afternoon snack. While fresh fruit isn't in season locally here, it is still easy enough to find at the store so this is a year round product that can be used.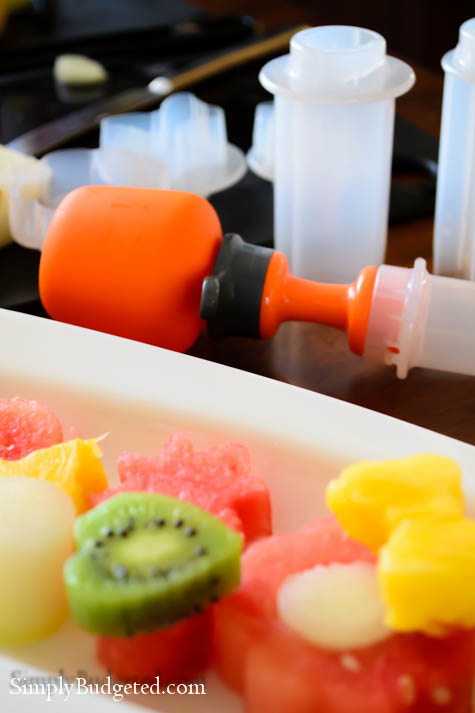 We didn't try it out on cheese yet and I have heard it works on cheese. I seriously love cheese so I am hoping to try that sometime. What fruit or cheese would you use with the Pop Chef to make fun shapes? Leave us a comment and let us know!