There are a few crafts I remember making as a kid and Hershey Kiss Roses for Valentine's Day is one of the crafts I remember. I did adjust this slightly based on the supplies I could find at our Walmart. I will list out the modifications I made off the original craft I remember making.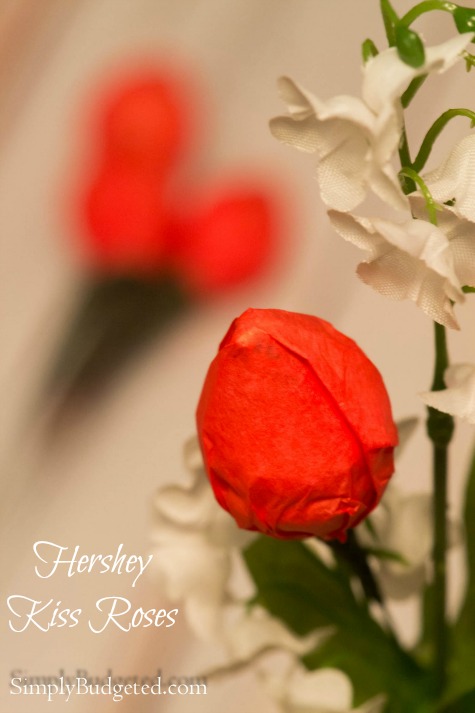 Supply List
Hershey Kisses
Floral Wire Sticks
Floral tape
Red Tissue paper
Scissors or wire clippers
Directions
Put one Hershey Kiss on the floral wire stick starting at the pointed side going through to the flat side.
Put another Hershey's Kiss on the floral wire stick starting with the flat side down (so flat sides touch).
Cut a piece of tissue paper in a 5 inch by 5 inch square.
Lay your kiss rose with the top point in the center of the tissue paper.
Fold the tissue paper so all of the corners meet and then fold the tissue paper down against the kisses.
Twist the tissue paper around the  floral wire stick.
Take a 5 inch piece of floral tape. Stretch the tape as you wrap it around the tissue paper.

So variations … mom always used red cellophane but Walmart didn't have this. We also put leaves in the floral tape as we wrapped it but once again Walmart didn't have any leaves I could use for this. So I opted for Lily of the Valley stems that were only $3 a bunch in the first picture.
This is a great teacher gift or a kids help with craft.
Have you made Valentine's Hershey Kiss Roses yet? Leave us a comment and let us know!