I was looking for a snack the kids could get involved with making last week. Harris Teeter tempted me with the sale of Rice Krispies. I knew I had marshmallows at home already and was convinced we could make Heart Rice Krispies Treats. This didn't happen last week but we did get a chance to make these Saturday morning and the were ready in time for the kids' morning snack!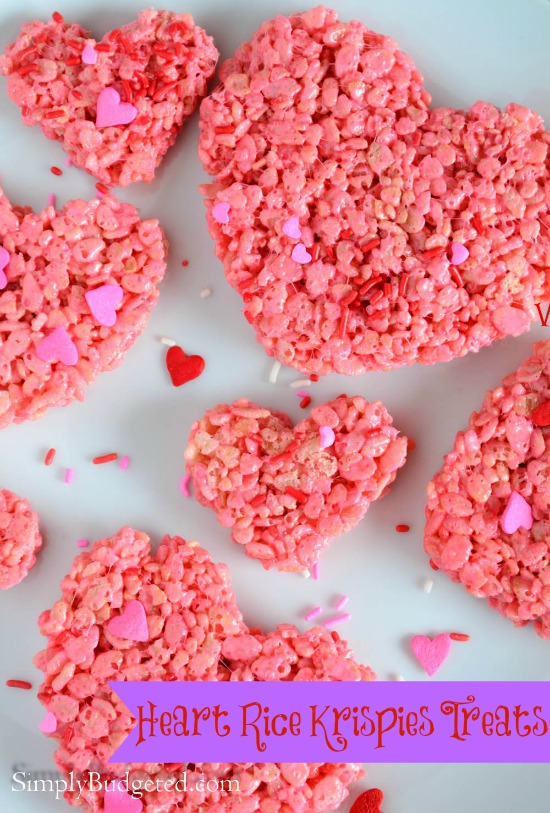 Follow the recipe we all know with two additions…
Ingredients
6 cups of Rice Krispies cereal
1 bag of mini marshmallows
3 tbsp of butter
red food coloring
Valentine's sprinkles
Directions
Melt the butter in a pot on low. Add the marshmallows and stir until melted. Add red food coloring until you get the color you want. We added 25-30 drops for this color as I was told light pink was not an option. Add in Rice Krispies cereal and stir.
Put your heart cookie cutters on Silpat mats or wax paper. Spray the cookie cutters and your hands with Pam. Add sprinkles inside the heart cookie cutter. Add enough Rice Krispies Treat mix to the cookie cutter to fill it. Press it down to the shape and pop it out. Repeat or keep filling other cookie cutters.
Tips:
PAM is your friend and keeps your hands less sticky. 
Work fast as the Rice Kripsies Treat mix hardens fast.
Put the sprinkles in the bottom so the stick better. Adding them to the top let them fall of easier!
I then took these and wrapped them individually in cling wrap. They are in the snack basket for lunches and snacks this week. The kids loved making them. The only problem is that I think I got myself in trouble making these. Sophie wants them for her Girl Scout snack now. I need to go buy more marshmallows!
Would your kids love the Heart Rice Krispies Treats? Leave me a comment and let me know!