We live by to-do lists around here. We have a family calendar, a publishing calendar, and lists everywhere it seems. Brian looks for a list what needs to be done each day. A list may include a shopping list, errands stops, kid activities, or even just cleaning tasks around the house. Each morning he is looking to start his list for the day. Honestly, if it isn't on the list, it doesn't happen. He might not get to everything on the to-do list he makes each day but he knows what starts the next day's list if that happens.
On the other hand, I tend to keep a running to-do list in my planner that includes work, home, and everything else for everyone. I admit that if I have days at home like weekends or holidays, I don't pull it out to see what is coming up. I have missed a few conference calls on Sunday just because I never open my planner on Sunday and the last time I remembered the call was Saturday evening. We almost missed Sophie's doctor appointment the day after Christmas because once again I didn't open my planner when I was off for Christmas vacation … it was vacation. I didn't need my planner, right?! Yeah, I learned not to schedule appointments during vacation time! I also learned that I really need to get in the habit of starting my own to-do lists for when I get home so I can keep up with everything that is happening the days I don't open that planner.
If stopping by the bank to deposit checks is often your list, the IngoMoney App may just for you! The mobile app that lets you load checks directly onto your participating Visa Prepaid card. Save a trip to the bank and have your deposit there ready to use minus a small fee or wait for no fee. We often have checks that sit in their designated spot for days because we keep forgetting them or just don't go by the bank when they are open. It would be great to check deposit checks off the list faster instead of letting it hang around on our to-do list!
We are excited to share a new printable with you to help with your t0-do lists. There are two per page to keep it budget friendly and use less paper. If you click on the picture you will get to a full size, pdf that is ready to print!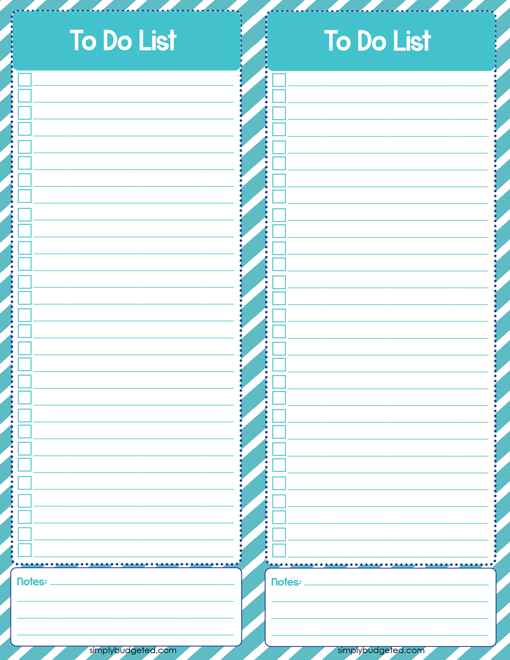 I am excited to print off several and cut them up so that we can have a stack ready on the desk for daily to-do lists for Brian and I! I hope that this printable helps you too!
Do you use to-do lists to keep yourself on track? What do you keep track of on your to-do lists? Leave us a commend and let us know.