We are excited to partner to review Les Petit Merveilles Nighttime Dinosaur Shadows!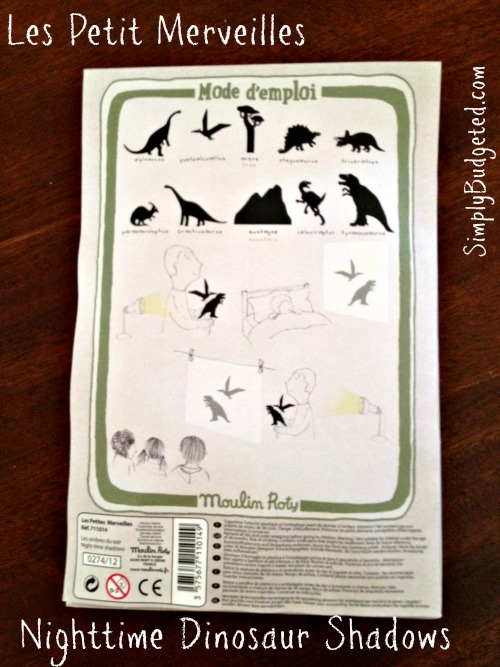 Les Petit Merveilles is small wonders in French. Thankfully Brian helps with the French translating but honestly you don't need it! These are shadow puppets! With all of the recent snow days the kids were more than excited to see a shadow puppet theater set-up in the living room. It took a sheet (cream was a close to white as we could get), a spot light from Brian's photography kit, clamps from the garage, and the kitchen chairs. The longest part of the setup was moving the chairs and bench from the dining room to the living room.
You want to see happiness, check out this …

THAT is pure happiness. He had a dinosaur show IN HIS HOUSE! Matthew's face stayed like the whole show Brian put on for the kids. Sure the show was a little silly but the kids loved that tree fell and scared the dinosaurs. They loved that there were rhymes and song as the dinosaurs danced. Then they started taking turns helping and finally put on a show for us. It was so cute. They can't wait to get the shadow puppets out again. We put them up high since they are delicate. I wasn't sure if the girls would love the dinosaur show but it was shadow puppets so of course they loved it!!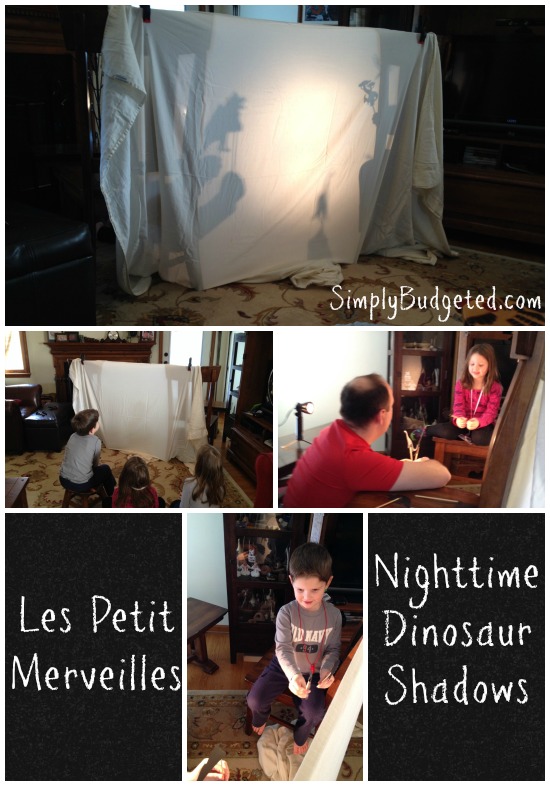 About Les Petit Merveilles
American children can feel magnifique as they hold these puppets made of black cardstock that are laser cut into various shapes. The Paris Shadows ($21) set shows the Eiffel Tower, airplane, moon and sleepwalker. The 9-piece Castle Shadows ($18.50) include a dragon, a fairy, royalty and a witch! If dinos are more your style, the Dinosaur Shadows ($18.50) pack of 10 puppets feature a stegosaurus, brachiosaurus and more prehistoric shapes!