Grilling is most often associated with applying large amounts of heat to beautiful hunks of meat.  Growing up, I can remember seeing my father outdoors, grilling chicken, steaks, sausages…whatever, and my mother, inside, preparing whatever side dish would accompany our charred, smokey meat.
As much as I love a cold side dish with grilled food, sometimes, I have to wonder why we don't use the grill more often to make our sides.  Does it make any sense to heat up the house boiling potatoes or noodles when the grill is already on?  That really got me thinking a little differently about the whole concept of sides and using the grill to cook them.  Instead of just moving the pot of water to the grill, why not grill some veggies right alongside the meat?
Well, that took me to the next level.  A steak with a side salad is nice, but how about taking that side salad up a notch or two by charring the lettuce and cooking the tomatoes.
The result?  My Charred Romaine Salad with Burst Tomatoes, Ranch Dressing, and Feta Cheese.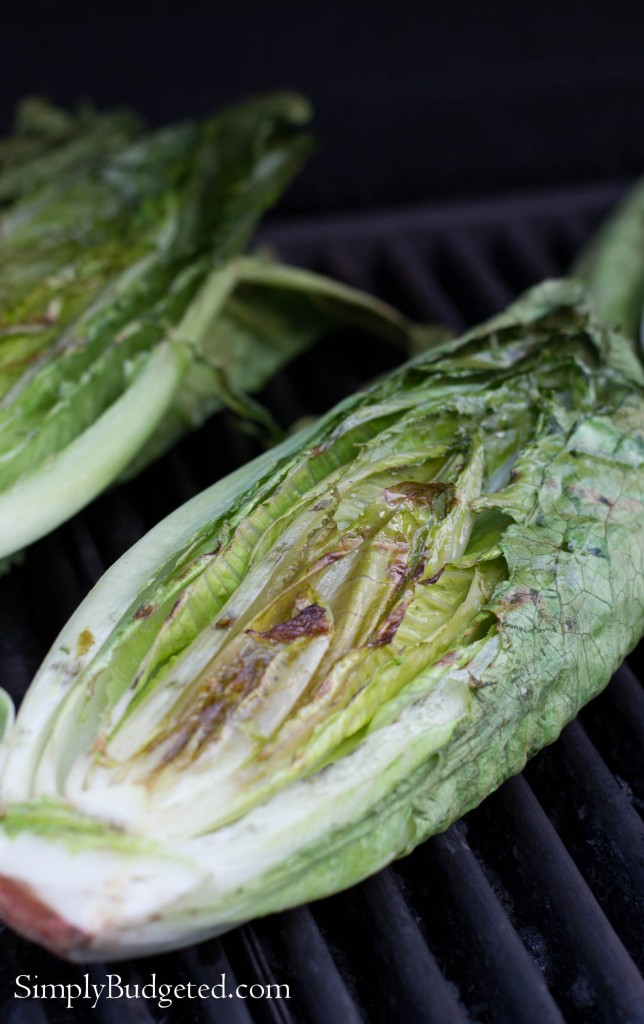 I take a head (or two) of romaine lettuce and slice it up lengthwise.  I brush it with a little olive oil and place it, cut-side down, onto a medium grill.  I cook the lettuce until I've got a nice char and the inner leaves are wilted slightly.
At the same time, I heat a pan over the grill and add some olive oil, grape tomatoes, salt, and pepper.  I allow the tomatoes to cook until they have all burst in the pan and the juices just start to thicken.
I chop up the romaine and transfer to a serving platter.  I sprinkle with a little salt and pepper and a squeeze of lemon that I have also charred on the grill.  Next, I spoon on the burst tomatoes, careful not to drown the lettuce with the juices.  I add some ranch dressing and top with feta cheese for a salty finish.  With each bite you experience crunchy and creamy, sweet and salty, and that incredible smokey flavor that only grilling can provide.
I'm not sure what I'm grilling next, but I'm sure that it'll be more than just another hunk of meat!
What are you grilling this season?  Leave us a comment and share your story with us.
Charred Romaine Salad with Burst Tomatoes
Ingredients
2 heads romaine lettuce
3 Tbsp olive oil, divided
1 lemon, halved
20 grape tomatoes
salt and pepper, to taste
1/4 cup ranch dressing
1/4 cup feta cheese, crumbled
Directions
Preheat a grill to medium heat.  Add a small sautee pan to heat.
Slice romaine lettuce lengthwise.  Brush each half with olive oil.  Place, cut-side down, onto preheated grill.  Cook until heated through, charred, and slightly wilted.
Place lemon halves, cut-side down, onto grill.  Cook until lightly charred.
Add 2 Tbsp oil to sautee pan.  Add tomatoes, salt, and pepper.  Cook until all tomatoes have burst and juices have thickened slightly.
Slice romaine heads into bite-sized pieces and transfer, as intact as possible, to a serving platter.  Season with salt and pepper and squeeze just a little bit of lemon juice onto each head.  Top with burst tomatoes and some (not all) of the thickened juices.  Pour dressing over the salad and sprinkle with crumbled feta.
Enjoy!