We are excited to feature a review of the provided Celebrating Science! themed DVDs thanks to NCircle Entertainment.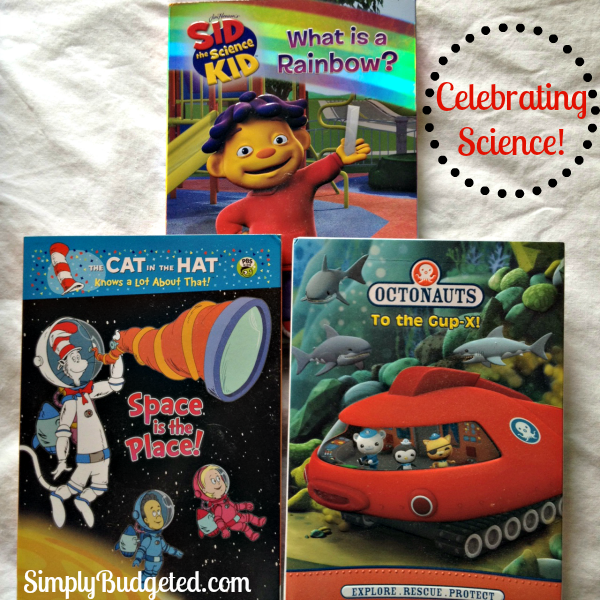 Details …
The Cat in the Hat Knows a Lot About That!: Space is the Place
Join the Cat in the Hat on a trip into space, and learn why the cosmos is such a cool place! In this new DVD, the Cat and his friends visit each of the planets, the sun and the stars. Young viewers can learn why day turns to night thanks to our friend, the sun.

Sid the Science Kid: What is a Rainbow?After a rainstorm, the sun comes out and Sid spots a big rainbow in the sky. He races inside to tell his parents, but by the time he brings them outside to see it, the rainbow is gone. Sid and his friends investigate rainbows at school where they discover that rainbows can only form when light passes through water droplets.

Themes explored include: Where does light come from? How are shadows made? How are rainbows created? What causes darkness?

Octonauts: To the Gup-X!This DVD includes the following exciting adventures: Captain Barnacles leads a mission to rescue Dashi, who is trapped inside a giant whale shark; Kwazii takes to the skies to retrieve a precious book from a school of flying fish; Peso tries to bandage a Great White Shark without becoming his lunch – and much more! Plus, in a special extra feature, Tweak & Tunip tell you everything you ever wanted to know about the Gup-X!
Our Thoughts …
Maybe you are a parent like me that loves anything science for your kids. I also admit that our kids enjoy watching movies while they take a break from playing outside or while riding in the van for trips. It is an added bonus when the shows support learning … especially learning such as science learning!
Grace was jealous of Sophie's recent movie review so she wanted to provide one. Grace picked the The Cat in the Hat Knows a Lot About That!: Space is the Place DVD. Here is what she wrote …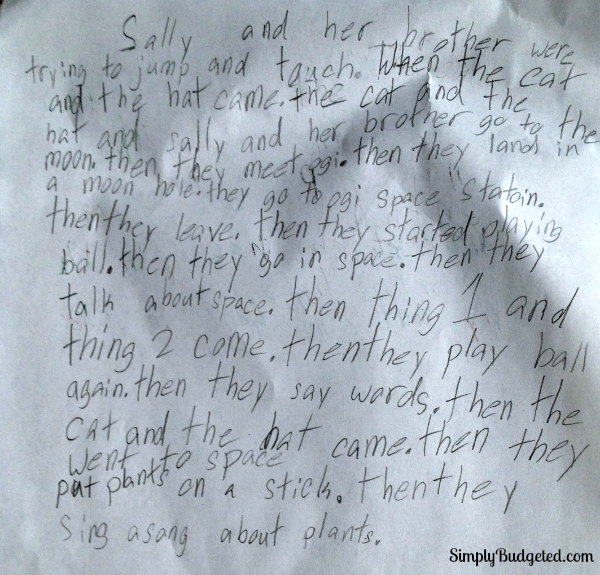 I admit I haven't seen her pay that much attention to a show in a long time so I think we might do more "movie reports" to continue working on writing skills during the summer. It is a fun activity for them that works on their attention span, understanding of what they see, and their writing skills.
After Grace presented me with this, Matthew complained he didn't get to write one but then stated he can't write that much (he is 4 and will start Kindergarten in the Fall.) So Sophie who is in Kindergarten said she would help him. Matthew didn't understand very well that he had to tell Sophie what he wanted her to write. I think Grace managed the pause button. While I know that Sophie gave up on Little Man, she tried and that was worth a lot! I also know that them working together on tasks like will help them in other ways.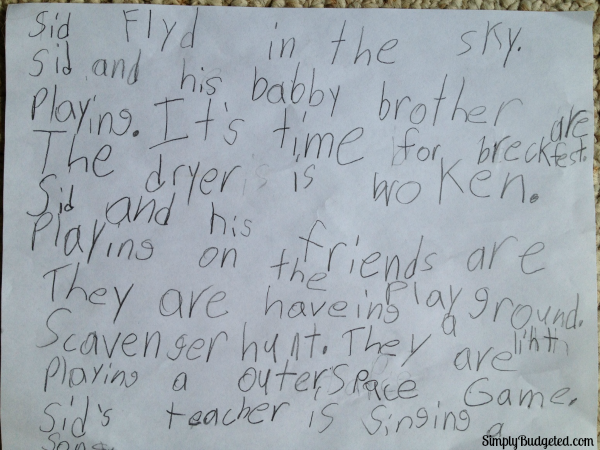 So for us these movies have become way more than Celebrating Science! I think they are Celebrating Writing!, Celebrating Teamwork!, and Celebrating Fun!
How do you Celebrate Science? Are you ready to check out these DVDs? Leave us a comment and let us know!