I am a member of the Collective Bias®  Social Fabric® Community. This shop has been compensated as part of a social shopper amplification for Collective Bias. #cBias
Are you on Twitter? If not, you are missing out! Of course you can follow me, @simplybudgeted, and Brian, @thiscookindad, over there but you can also follow @amazon! There is actually a whole list of Amazon Twitter handles. Some of these were new to me so I was excited to follow them last week …
Amazon Cart Handle
Shopping Handles
Why do you want to follow these Amazon Twitter handles? Amazon has a great new #AmazonCart feature. You can find a tweet that has an Amazon product link in it. You can reply with #AmazonCart and it will be added to your Amazon shopping cart. We get Amazon orders at least weekly, sometimes more often than that so making Amazon shopping easier for us is an added bonus.
I found this item on the Amazon Twitter feed last week …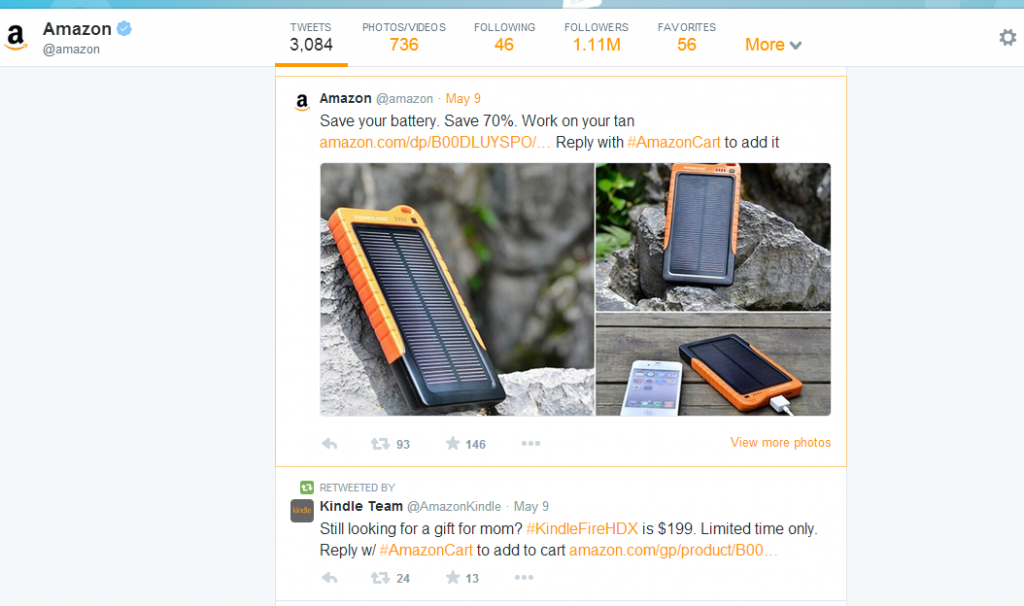 Brian had just gotten back from his Washington Monument #Monumeet event (post to come). He had gone through his cell battery plus the back up batter he had during the event and was using another phone by the end. We have a lot of travel planned coming up so I wanted to check this out. I added it to my cart with a tweet. I was told I needed to link my account since it was my first purchase using #AmazonCart.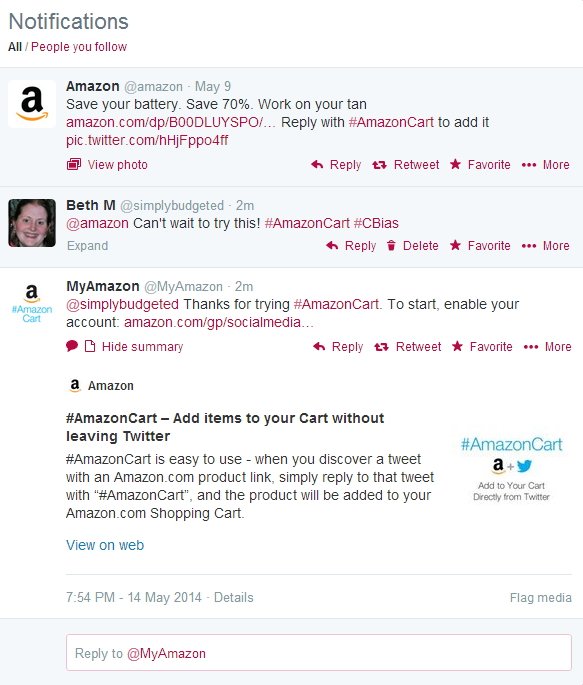 The verification step was super simple. I just had to click Add to Cart!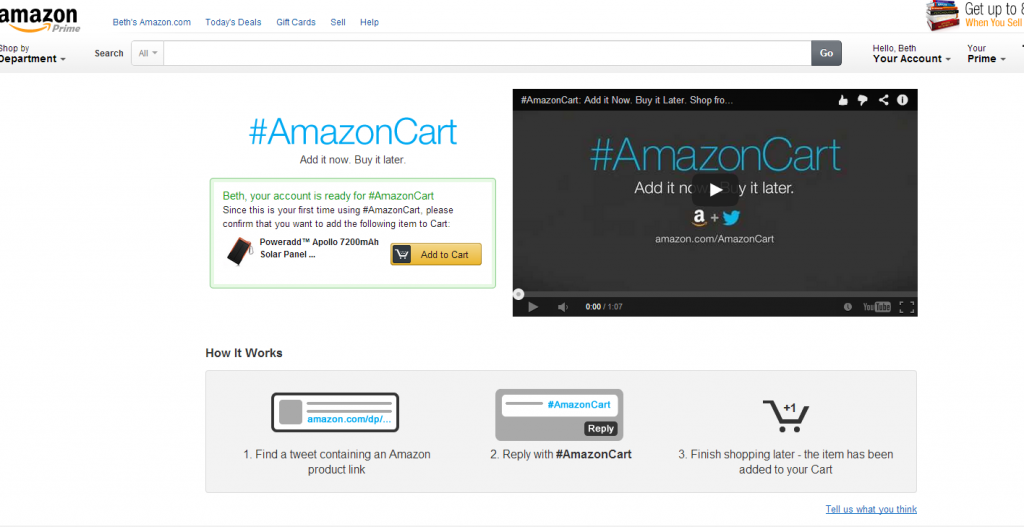 I checked out including a DVD Brian had placed in the cart earlier that week. With Amazon Prime, I ordered this on Wednesday afternoon and the product was there on Friday morning. My love for Amazon comes from I don't have to drive all over to the stores (we don't live near much) and that I don't have drag three kids there with me so yes I love Amazon Prime shopping.
Here is what came …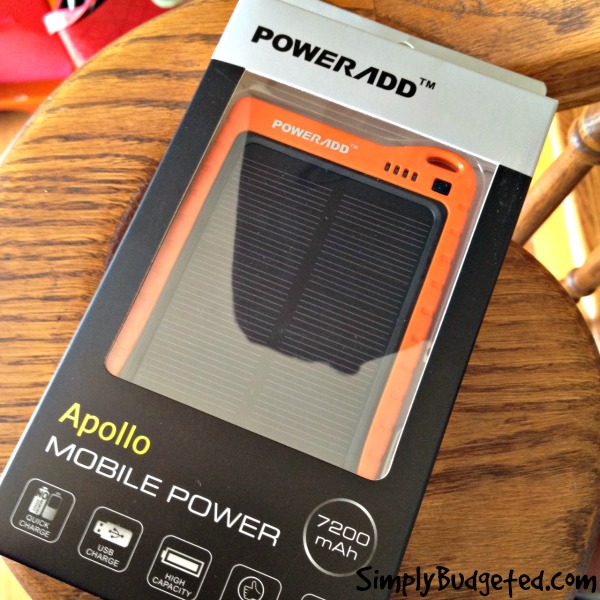 I am excited to see that it will charge while we have a phone plugged into it. If we are low on sunlight but want to take it charged, I can charge it using one of the 4 adapters in the A/C adapter for my phone. It holds enough charge to charge our phones 2-3 times.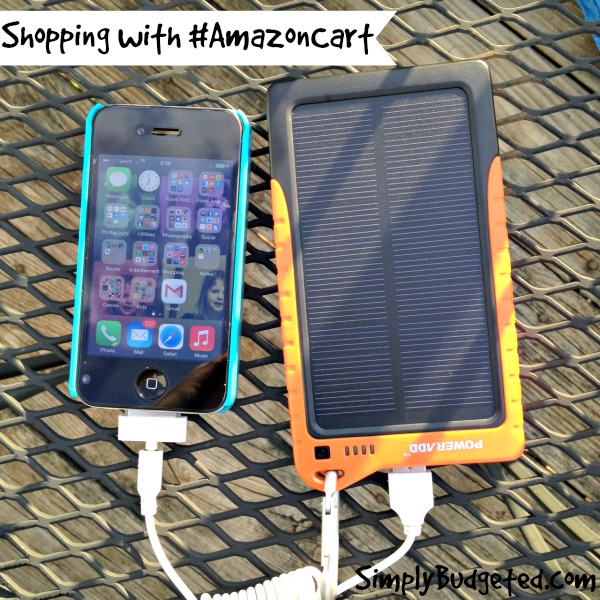 This will be great when we are out traveling. Brian loves that is easy enough to slide in his camera bag when his out at events. I am starting to wonder if I need to order a second one of these so I can actually use it. Maybe!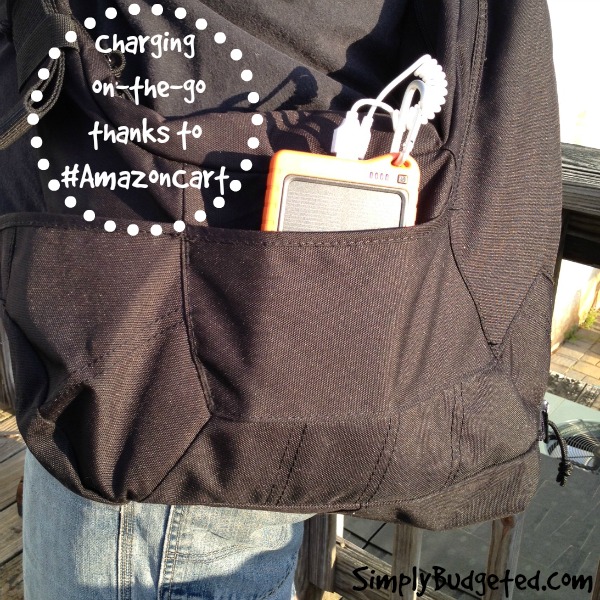 Have you tried #AmazonCart yet? What are your thoughts?