"I participated in a campaign on behalf of Mom Central Consulting (#MC) for Sprint. I received a product sample to facilitate my review and to thank me for participating."
I love to travel!  Whether I'm catching a plane or a train or just driving to my final destination.  I love to be out and about.  Usually, I only have two requirements:  good music for the trip and a camera for when I get there.  Anything that can give me both in a small package would be pretty welcome.
That's why I was so excited to receive the HTC One (M8) Harman/Kardon Edition (HKE) from Sprint.  At first glance, I loved the large touch screen.  The phone is light, but feels sturdy and fits well in my hand.  While I knew the phone was coming, I was pretty shocked to find that I had also received a Harman/Kardon Onyx Portable Speaker.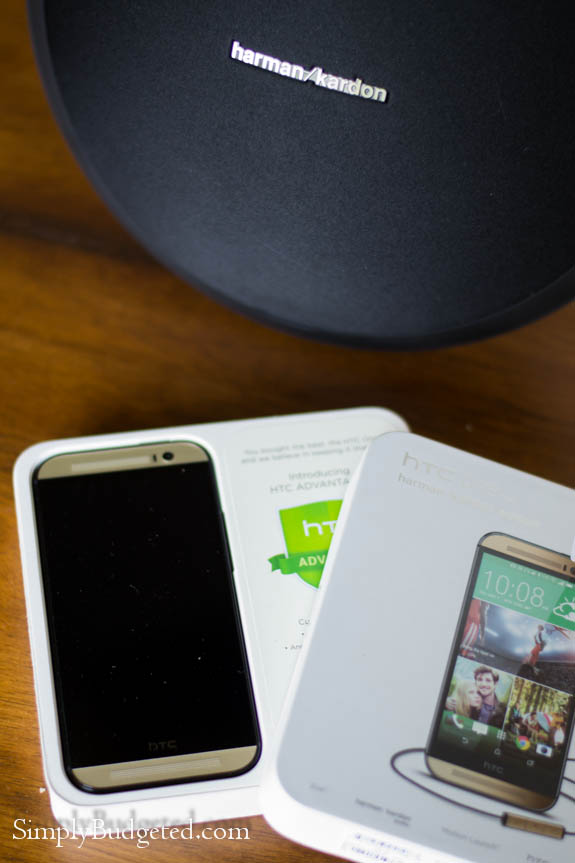 If you haven't heard of Harman/Kardon, you should know that they make some incredible audio products.  I was expecting a lot from this phone!  I am no music critic, but, to my ear, I have to say that the phone delivers.  It has a nice clear sound and a couple of functions that help out  to make the most of your digital music collection.  "Clari-Fi" restores the quality of your compressed audio, leading to clearer vocals and nicer rhythms.  "LiveStage" attempts to make your music sound more live.  This certainly works best when paired with the headphones that come with the phone.  All in all, I'd say that, if the music quality is important to you, the HTC One (M8) HKE is worth a look.
My other requirement is a camera.  For my longer trips, I don't mind toting my DSLR around.  It can be a lot to lug around, but I never regret the great shots that I can get with it.  For a day trip, though….  For just heading there and back and getting shots that I know I will only post to social media or, maybe, to the blog, the camera can be a bit burdensome and can really limit how much I can post the photos of the day.  I'm happy that so many cameras have phones these days, but getting great quality photos on a phone is very difficult.
The HTC One (M8) HKE attempts to remedy this by its inclusion of a second camera lens.  The Duo Camera, focuses much faster than other phones that I have seen and, because of the second lens, adds a sense of depth to the photos.  To my eye, the photos are just not as flat.  Take a look below at photos of the Washington Monument taken with my iPhone 4s, the HTC One (M8) HKE, and my Nikon D3100.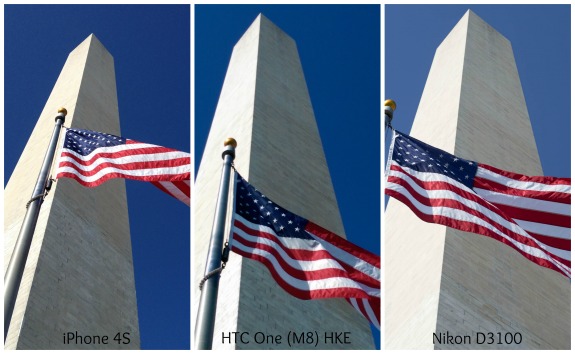 None of these photos have been edited.  They are straight off of the cameras.  Notice how the iPhone pic is a little flat?  It's a nice picture, the colors are bright, but everything is focused just the same.  No depth to it.  The HTC One (M8) HKE's Duo Camera gives more depth.  The flag is clearly in the foreground, with the monument a distance behind it.  The colors are also much richer.  My DSLR clearly has more depth to it and a much wider range of colors, highs, and lows.  There's more that I can do with that picture down the road.  Straight out of the device, though, the HTC one, to me, has the edge.
So for those trips where I know I don't need to break out the big camera, I can be reasonably confident that I can get some great shots with the HTC One (M8) HKE.  To top it off, as part of Sprint's new Sprint Sound Sessions, Sprint is giving customers access to Spotify's catalog or more than 20 million songs.  Plenty of travelling music to accompany you on your journey.  Not a bad way to get started with your new phone, right?
Do you travel much?  Besides calling people, what do you use your phone for?  Leave us a comment and share your story.