This shop has been compensated by Collective Bias, Inc. and its advertiser. All opinions are mine alone. #CollectiveBias #RollIntoSavings
During the summer months, many families experience tight times around the 1st and 15th of the month.  We were challenged to use some KRAFT products (featured on rollback at Walmart) to come up with easy summer meals that would serve our entire family for under $20.  We accepted and came up with a menu that our kids not only enjoyed, but that they could help prepare.
Let's face it, summertime with kids can be tough!  Not only do you not have that lovely 8-hour break every day when the kids are in school, you now have to find ways to fill that time with activities to keep the kids (and yourself) from going stir crazy.
When we start talking about dinner, it gets even harder.  We want something light enough to treat us well on those hot summer evenings, but filling enough to keep those little bellies from being hungry all night.
I try to combine our summer activities with meal planning, shopping, and preparation.  It's a great way to keep the kids active, invested in their food, and to help them build skills that they'll need down the road.  One day, I asked the kids what they wanted to help make for dinner and they answered with a resounding call for pasta salad.  So we decided to make an Italian Chopped Pasta Salad (see recipe below).
The kids love pasta salad because it tastes good.  I love it because it's simple and cheap (plus, it really does taste good!).  So the kids and I headed off to Walmart to buy a few things.  To start, I grabbed a box of pasta.  The kids picked shells, but spirals or elbows work great also because they hold onto the dressing and other ingredients.  Next I added some KRAFT Mayo and a bottle of KRAFT Zesty Italian Dressing to my shopping cart so that I could make my base.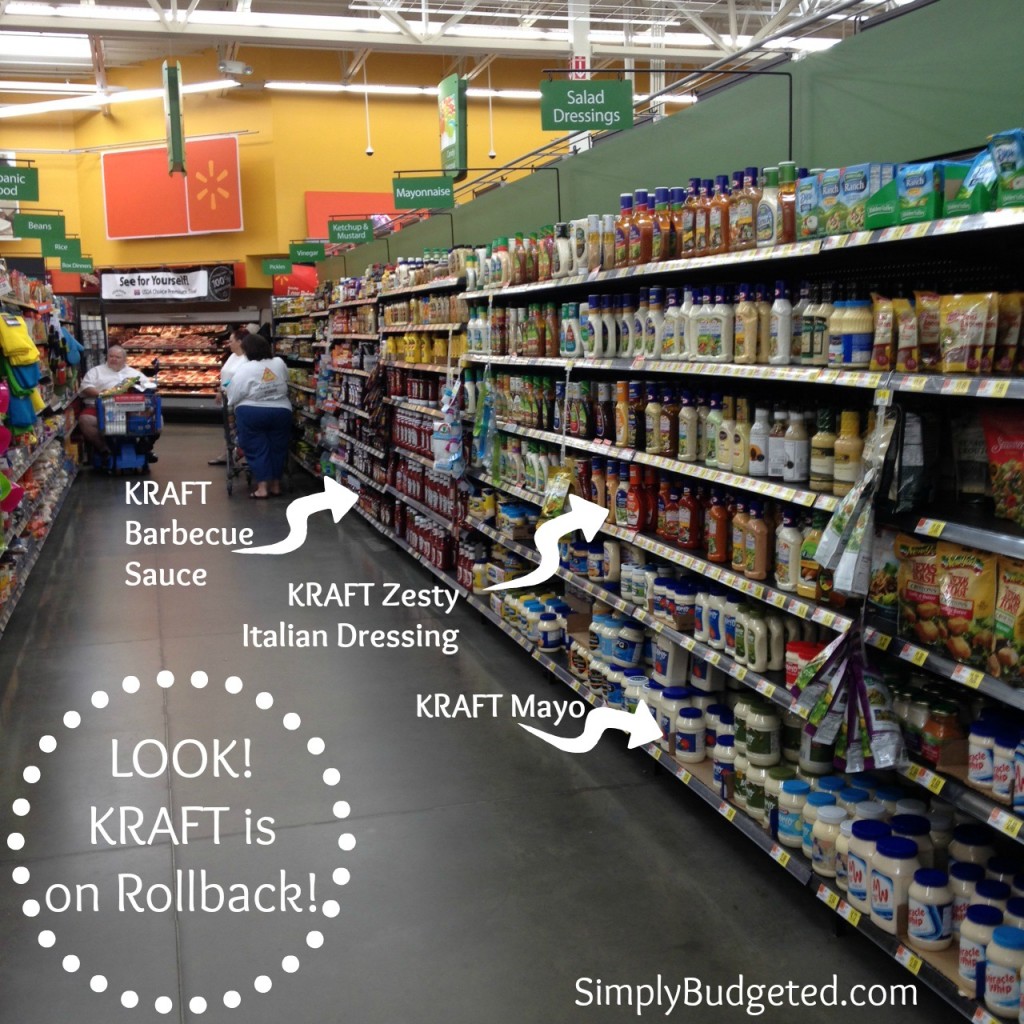 After that, the sky's the limit.  You can add just about anything to your pasta salad and it'll taste good (within reason, of course).  We wanted to make an Italian pasta salad, so we got some cherry tomatoes, black olives, green onions, salami, and VELVEETA Swiss Cheese Slices.  When we got home, I cooked the pasta, cut up and measured the other ingredients, and set them out so that Matthew and I could get to work.
With everything measured out, Matthew could just start pouring it all into the mixing bowl.
Sometimes, a little guy still needs some help from his dad, though.
Once that was finished, we set it into the fridge for about an hour to let it all come together.  In order to make the meal something a little more substantial, we had picked up the makings for a BBQ Mushroom Turkey Burger (see recipe below).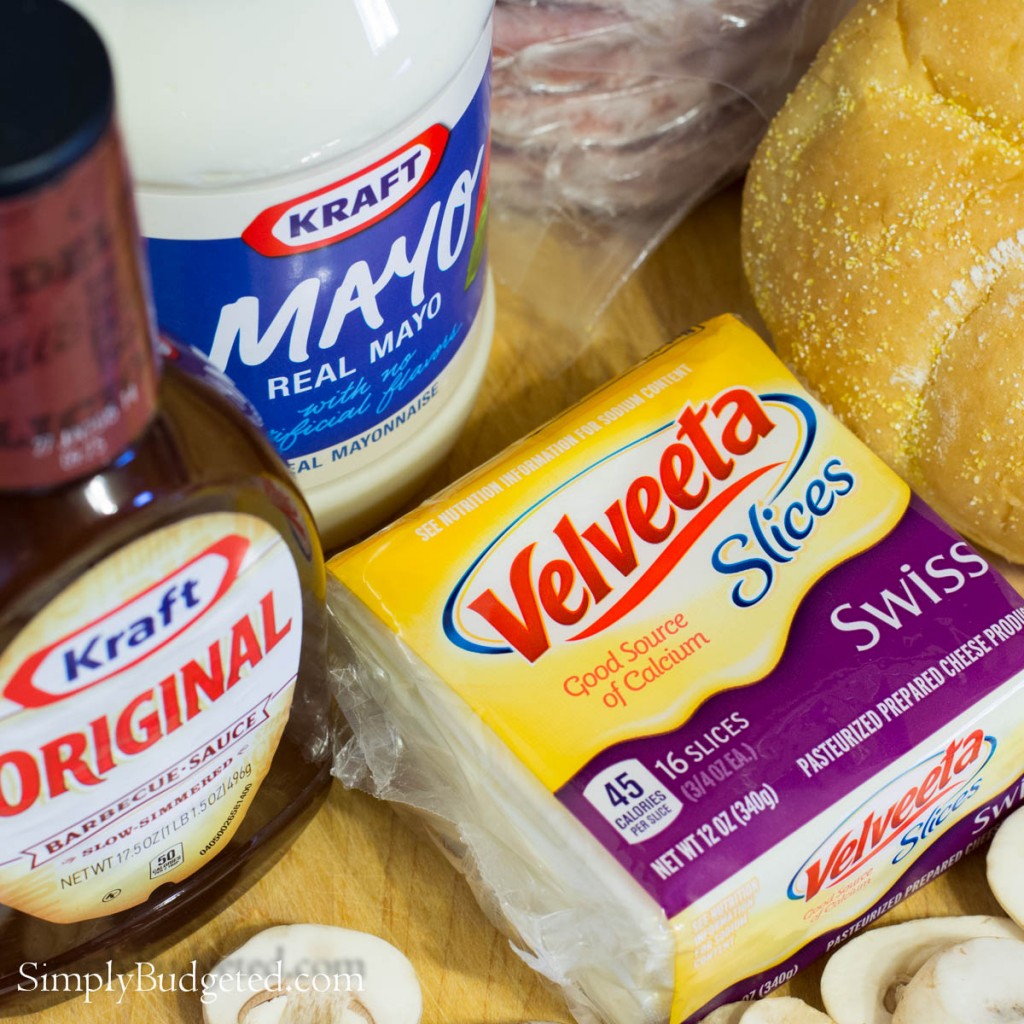 I cooked down some mushrooms and combined them with some KRAFT Barbecue Sauce.  I slathered a bun with some of the KRAFT Mayo, added a cooked turkey burger patty, and topped it with one of the VELVEETA Swiss Cheese Slices, the BBQ mushrooms, and the top of the bun.
We served the burger with a side of pasta salad and a pickle for a delicious, filling meal that cost a grand total of $14 for 4 servings.  That's only $3.50 per serving!!  Plus, we had enough pasta salad left over to account for two lunches.  At any casual American restaurant, you could easily pay $14 for just the one serving.  If that's not Simply Budgeted, I don't know what is!
How are you stretching your food budget this summer?  Are you getting the kids involved?  Leave us a comment and share your story!
Italian Chopped Pasta Salad
Ingredients
1/2 C KRAFT Zesty Italian Dressing
1/4 C KRAFT Mayo
8 oz. pasta (1/2 box), cooked and drained
2 slices VELVEETA Swiss Cheese Slices
2 oz. salami
1-2.25 oz. can sliced black olives
2 green onions, sliced
1/2 pint cherry tomatoes, halved
salt and pepper to taste
Directions
1.  Blend dressing and mayo in a large mixing bowl.
2.  Combine remaining ingredients with dressing mixture.
3.  Refrigerate for at least one hour before serving.  Enjoy!
BBQ Mushroom Turkey Burgers
Ingredients
1 Tbls. olive oil
8 oz. sliced mushrooms
salt and pepper to taste
2 oz. KRAFT Barbecue Sauce
4 frozen turkey burger patties
4 sandwich buns
4 tbsp KRAFT Mayo
4 slices VELVEETA Swiss Cheese Slices
Directions
1.  Heat olive oil in a skillet over medium heat.  Add mushrooms, salt, and pepper.  Cook until mushrooms release most of their moisture and just begin to brown, about 10 minutes.  Add barbecue sauce.  Mix to combine, remove from heat, and set aside.
2.  Cook turkey patty according to package directions.  Add salt and pepper to taste.
3.  Top the bottom of each bun with 1 tbsp mayo, 1 cooked turkey patty, 1 slice of cheese, 1/4 of the BBQ mushroom mixture, and the top of the bun.
4.  Serve and enjoy!