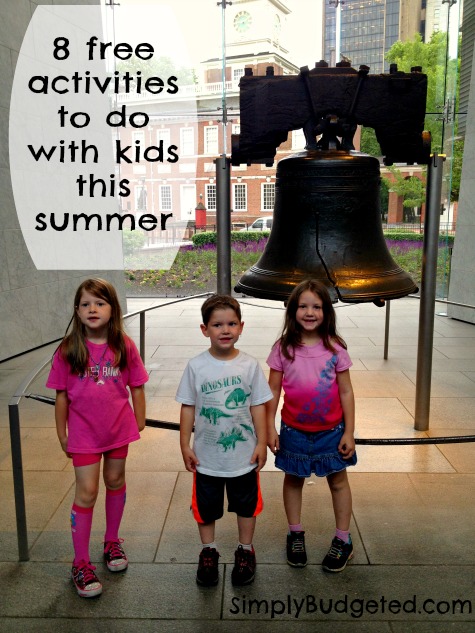 Summer is here! Sunshine, ice cream, water parks- and lots of money spent entertaining the kids. It's all here and the routine doesn't exist any more, right? It is time for some summer fun! If you're hesitant about the spending money part, don't worry! There are lots of great and free activities you can do this year.
Catch a free flick
Movie theaters have summer programs that show older movies and cartoon classics. You may have a hard time finding something the whole family likes, but it doesn't hurt to check. Plus, local groups often put on free showings of family-friendly movies in the park after the sun goes down. Check your local tourist office for these offers. If you don't feel like leaving the house, though, you could always order takeout and rent some movies. That can be just as fun!
Get outside
National parks across the country are offering Free National Park days. All you have to do is load up the kiddos and head to your local National Park for some outdoor fun. Bring along a picnic and make it an all day affair of sunshine and fresh air- all for FREE!
Go backyard camping
If you don't want to take a long drive to have some fun, you can just step out into your backyard, pitch a few tents, start a contained fire, and make some S'mores. Tell ghost stories, play games, roast hot dogs, and have a great time camping with those you love. No electronics allowed, but you can comfortably use the indoor facilities.
Take a class
Bass Pro Shops, Lowe's, Apple stores, Home Depot, Pottery Barn, and so many more places offer free workshops to teach about building birdhouses, recycling, planting gardens, and a whole host of other things. Take the family to the workshops, participate in the fun, and don't be ashamed to admit that you learned a few new things this summer. A perk to this one is that you might find yourself a new hobby.
Get some culture
Many museums offer interactive art for kids and tours for adults- for free! Take your kids to local shows and help them paint, sculpt, and whatever else the art teacher is doing as the medium of the day. You can get in some bonding time with your child, social time with your peers, and a lesson in art all at once and all for nothing spent.
Cook all day
Breakfast in bed, a picnic lunch, dessert by the garden, and an outdoor dinner can all be great ways to relax and have fun, but don't just do it at home. Did you know many places will offer free cooking classes over the summer? Hit one up, try it at home, then take the family on an old fashioned picnic. Cook up some fun for an entire day and enjoy doing this as a family.
Hit the lake
Take some time off during the week and take advantage of free lake access. You and your family can enjoy the sun, the water, and grilling outside for food all day as you don't spend anything to gain access to beautiful natural features. A bonus is a tan and the water to cool you off!
Go to the library
Story time at the library is often free, and many libraries offer more incentives to visit in summer. Take advantage of these free programs and visit your local library during the summer.
What activities are filling your summer days with the kids? Leave us a comment and let us know!