I participated in an Influencer Activation Program on behalf of Mom Central Consulting for Nutrish for Cats.  I received a sample of Nutrish for Cats to facilitate this review and a promotional item to thank me for participating.
It's not easy to find a healthy cat food without junk like meat by-product, artificial flavors, or preservatives.  Cats wouldn't eat this stuff in nature.  Why should we feed it to them at home?  Rachael Ray "Nutrish" for Cats is a natural food for cats that is just made from simple, wholesome ingredients that I know my cats will love.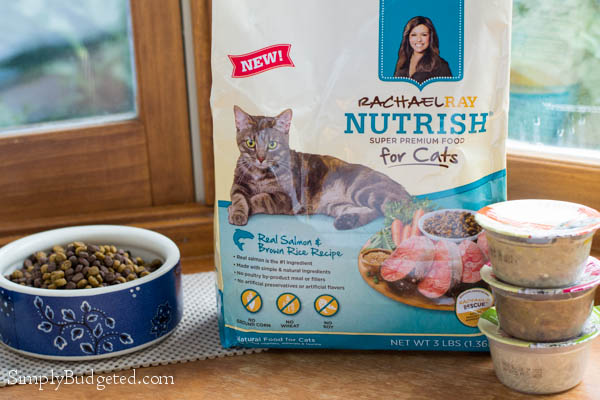 We have two cats and, in many ways, they are just two more members of our family.  They have such different personalities!  Smokey is adventurous and curious.  Mostly, he wants to have his nose in everyone's business.  Snickers, on the other hand, is very shy and is happiest curled up on my side of the bed or even, if the kids are being too loud, hidden in her little space underneath the bed.  If you come to visit out house, expect to see Smokey wandering about and consider yourself blessed to even catch a glimpse of Snickers.
With our kids, we help to make sure that they are clean, loved, and always have plenty of food and water.  And just like with our kids, we want to make sure that the food that we are feeding them is healthy, nutritious, and delicious.  In essence, we want our cats to eat like we do.  We prepare meals with fresh wholesome ingredients like chicken with roasted broccoli and roasted potatoes (recipe below).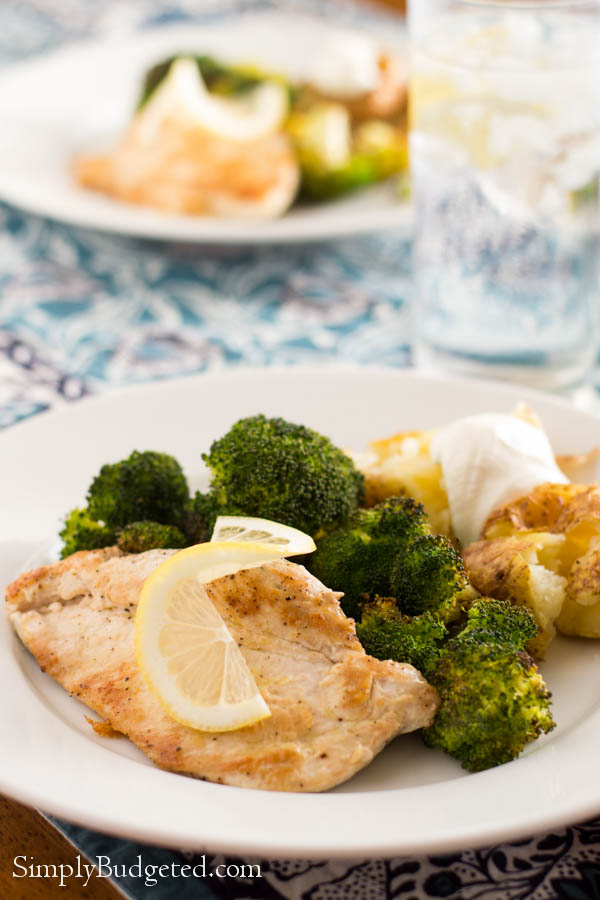 We recently switched over to Nutrish for Cats from our previous brand and, judging from Smokey's initial reaction, my cats are going to be happy with the switch.
Are you interested in making the Switch to Nutrish and treating your furry family to the best cat food?  Grab some coupons, find out where to buy it, and make sure you upload photos of your happy kitty's switch with #NutrishforCats on Instagram, Twitter, and Facebook.  Make sure you enter our giveaway below for a chance to win samples for your kitty.  Good luck!
Do you treat your cats like members of the family?  How do you spoil them?  Have any special treats?  Leave us a comment and share your story.
Lemon Chicken with Roasted Broccoli and Baby Potatoes
Ingredients
1 lb baby potatoes
1 large head broccoli, divided into florets
3 tbsp olive oil, divided
salt and pepper
4 thin-sliced chicken breasts
1 lemon
Directions
Preheat oven to 450.
Pour 1 tbsp olive oil over potatoes, season with salt and pepper, and place onto a large sheet tray.  Bake in oven for 15 minutes.
Meanwhile, dress broccoli with 1 tbsp olive oil, salt, and pepper.  After potatoes have cooked for 15 minutes, add broccoli to the sheet tray and cook another 15 minutes or until broccoli has begun to char slightly and potatoes can be easily pierced with a sharp knife.
While the vegetables are baking, heat a large skillet over medium-high heat.  Season chicken with salt and pepper.  Add remaining tbsp olive oil to the pan and carefully place chicken into the pan.  Cook 3-5 minutes per side or until just cooked through.  Squeeze a little lemon juice over each one as they finish.
Serve chicken, broccoli, and potatoes with lemon wedges and a little sour cream on the side.  Enjoy!
We are excited to offer a giveaway to one of our readers samples of Nutrish for Cats!
NOTE: Contest entrants are only eligible to win once per sweepstakes, per household as part of a campaign sponsored by Mom Central Consulting.