The windows are open in the house and the kids are starting to grab jackets on the way out to the bus. These are sure signs that fall is here. We love the crisp fall days we get here in Virginia. My favorite part of fall is all of the colors that are suddenly outside … reds, oranges, and yellows that we have missed since last fall.  Fall also means new flavors for Brian's coffee.  International Delight has come out with it's Pumpkin Pie Spice variety for the holiday season and Brian is already starting to get into the spirit!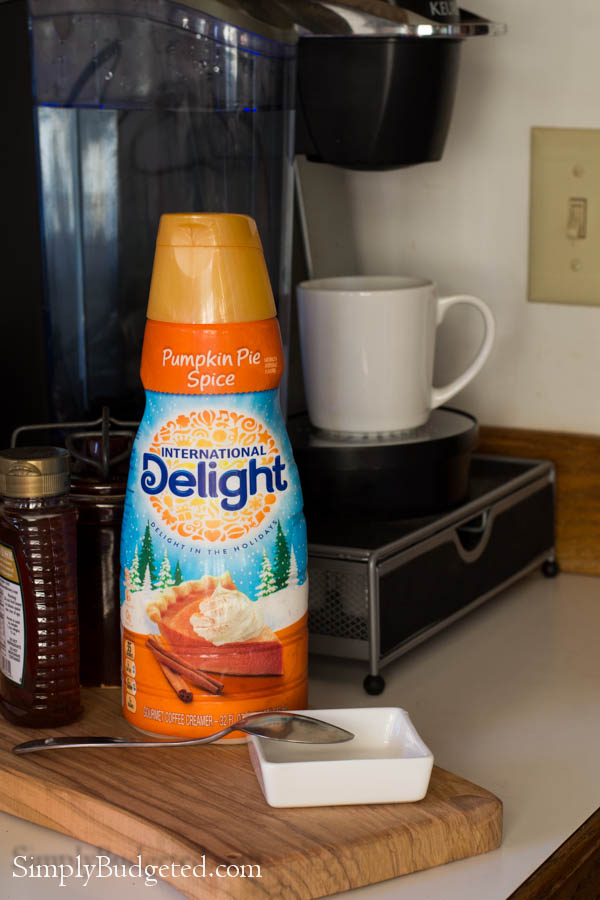 Of course, that means that Brian has had a few International Delight bottles around as he finishes them and I keep resisting the urge to add them to upcycling box in the garage. Our trash is stream line recycling so I know for sure they are recycled but sometimes it is fun to do that recycling yourself and make something useful. I recently saw a craft using glass milk bottles and was inspired!
I started with an empty International Delight bottle, acrylic paints, paint brushes, twine, hot glue, and some fall looking twigs.
First, I unwrapped off the bottle and painted it orange. Sophie and Matthew had collected some leaves in the yard for me (great way to get young kids involved), so I put a leaf on the bottle and outlined it with the paint. Next, I used the flat top of the paint brushes dipped in paint to create the leaf outline.  I then painted the brown in the grooves that are in the lower part of the bottle.
I had twine leftover from another project, so I wrapped it around the top until I got to the top edge. I hot glued the twine to the top of the bottle and then tucked the twine inside it. Finally, I cut the twigs down to just the right height for my new vase.
Here's the finished project.  I used orange and brown for a nice fall effect, but you could easily choose other colors and have a great vase that celebrates your favorite football team!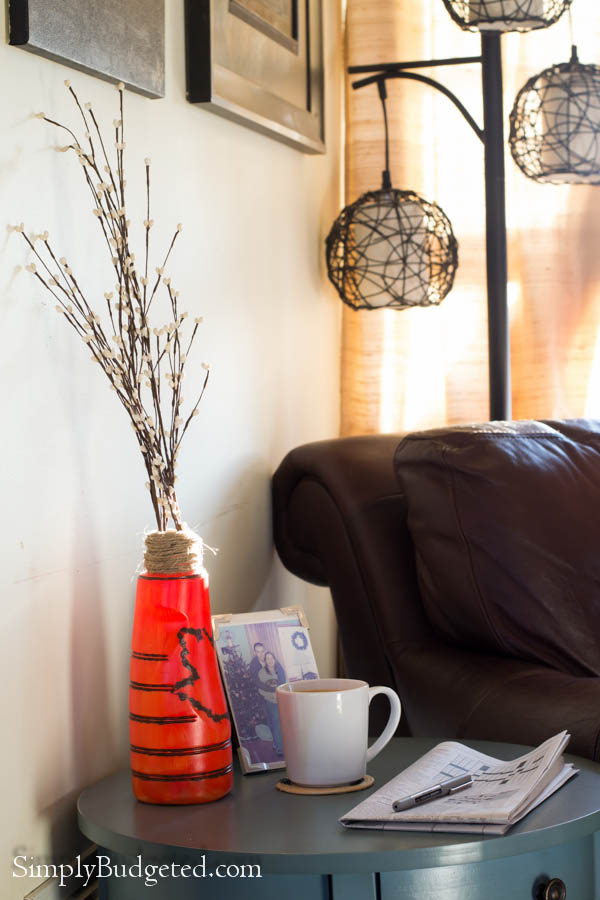 Tip: Add a few rocks or small gravel to the bottle to help keep it steady when you put the twigs in it.
How do you ID? Looking for other great ways to use International Delight products? Find and share delight in the International Delight Pinterest community!
This is a sponsored conversation written by me on behalf of International Delight. The opinions and text are all mine.