I received a KitchenAid Classic 4.5 quart Stand Mixer as a gift year ago. We have abused that mixer. It is well loved. We did upgrade last year but I still have my classic. It is a favorite when I get into holiday baking mode.
I seem to have cookie years and break years. I have a feeling this year will be a cookie year. On cookie years, I make dozens and dozens and dozens of cookies. I will make like six different kinds of cookies and have the dining room table piled high with cookies. I end up exhausted and covered in a baking mess. Then Brian looks at me and asks what I am doing with all of those cookies. At that point, I just stare at him. I had no plan … I still have no plan. I was just baking. Then everyone we know seems to be gifted with cookies.
If you want to see joy, share cookies with someone that isn't expecting them. I did this at our church Halloween event since I had a "baking table" as our trunk. You would have thought those cookies were amazing pieces of art … they weren't. I totally cheated on those and used a tub of cookie mix and Brian even made up most of them. But I had my mixer on my table and everyone thought I made those cookies from scratch! 😉 So there you have it … it is a good prop too! We are excited to participate in another giveaway and hope you win it to help with your holiday baking!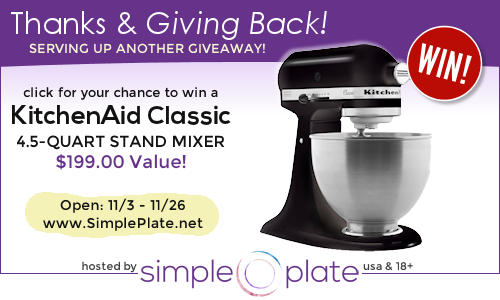 This giveaway is for ONE (1) KitchenAid Classic 4.5 quart Stand Mixer. The winner will be seent either a black or white version of this mixer depending on availability. This giveaway is open to all residents of the US, ages 18+. Winner will be notified via email and have 24 hours to respond – at that time, if no response is received, we will chose another winner at random. Good luck to all!