I participated in an Influencer Activation on behalf of Influence Central for BAND-AID® Brand. I received product samples to facilitate my review as well as a promotional item to thank me for my participation.
As a veteran, I am acutely aware of the challenges involved in reintegrating back into civilian life.  Groups like Team Red, White, & Blue strive to connect veterans to their local communities through physical and social activity.  I am excited to find that BAND-AID® Brand has partnered with Team Red, White, & Blue to help further this mission!
Post 9/11 veterans, in particular, have the distinction of having served during the United States' longest lasting military conflict and as part of an all-volunteer force.  This notion of volunteering and serving is so strong that veterans are, on average, 2 to 3 times more likely to volunteer than their civilian counterparts.  A "Thank you for your service" is great, but most of us would rather you give us something to do.
For me, volunteerism has been an integral part of my return to civilian life.  It gives me a chance to continue serving and hints at the kind of camaraderie that I remember from my military service.  Team Red, White, & Blue is one of the newer organizations that realizes that the path to healing and helping veterans is not only through serving those who have given so much but by providing opportunities for our veterans to continue using their skills and experience to serve their local communities.  They also raise awareness for veterans' issues and funds for veterans in need by engaging in events such as the Old Glory Coast to Coast Relay Presented by BAND-AID® Brand, a 3800 mile run that carries the American Flag from San Francisco to Washington, DC.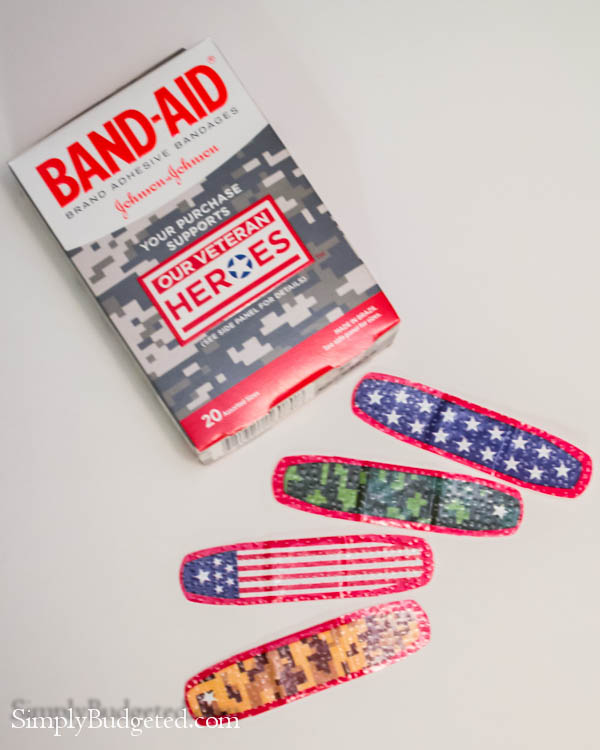 BAND-AID® Brand has decided to support efforts like these by acting as the presenting sponsor and by launching a new line of bandages.  OUR VETERAN HEROES BAND-AID® Brand Adhesive Bandages feature patriotic and military inspired designs and 5% of the sale price from each box goes to supporting Team Red, White, & Blue and its mission of enriching the lives of veterans by connecting to their communities through physical and social activity.  You can find these at Walmart, Target, Walgreen's, CVS, and Rite Aid.
Further, during the relay, for each encouraging message that you post supporting the runners and thanking veterans, BAND-AID® Brand will donate an additional $1, up to $25,000.  Through your simple "Thanks", you can raise both awareness and much needed funds for a very worthy cause.  You can visit http://www.band-aid.com/heroes or use #RunWithGlory on Facebook, Twitter, and Instagram.
Do you know someone who is a veteran or who is actively serving?  How do you say "Thanks"?  Leave us a comment and share your story.