As much as our little Elf on the Shelf game can annoy me … mostly since we are so forgetful, it can give us good reminders. Like how on Wednesday Kingston hung out with the newborn King. When was the last time we took time to do just spend time with Christ?
Today Kingston is reminding us that there is always room for new friends. We have been overwhelmed with Christmas stuffed animals over the past few years. A couple of years ago, I let the kids "decorate" the corner of the steps up to their bedrooms with these stuffed animals that we only see one month a year. This year they were tossed in a pile on the steps. Grace and Matthew did the arranging. They were very proud of their work. Brian and I will both admit that we will be happy with the one that sings and dances finally dies, we will be happy. Will it that battery ever die? ugh. For now, Kingston is hanging out with his new friends. Here is to planning to make time for new friends this holiday season!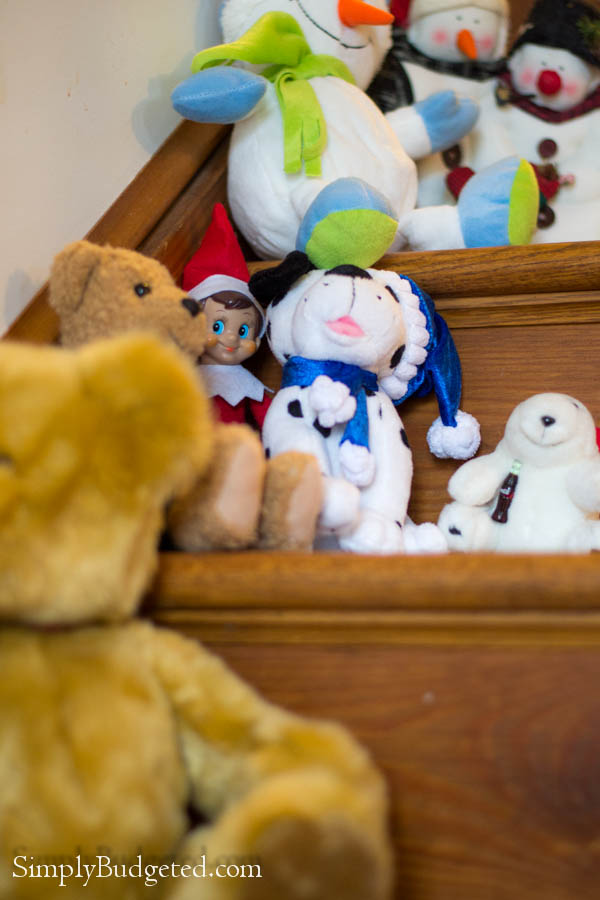 How is your elf doing? Hope you are ready to play along as we try to make it through the month! How does the The Elf on the Shelf  work at your house? Check on where Kingston was this year with the Kingston 2014 tag here!