This is a new spot for Kingston. It is a funky light we got when move Brian's chair in the living room. I really love it but I was very concerned that I would have the elf falling issues with this location. Thankfully, he stayed put unlike when Kingston has been lazy in the past.
I should have been worried about other things besides him falling apparently. I was drilled by Sophie on how his legs stayed like that. Really?! ugh. She didn't think he could walk to get to Santa. I told he flew. She said he had to walk some. ugh. Come on Sophie, give mommy a break. I told her that maybe he became a cartoon like figure when he walked. She then said "so he isn't real?" Crud. I messed this all up. She finally gave up on me and lame conversation that I was eventually having with myself.
See how horrible we are at this elf game, folks? I better work on it. Tomorrow is Sophie's birthday and that is the only day our elf does something. I don't have a plan yet. This is so like me yet so horrible.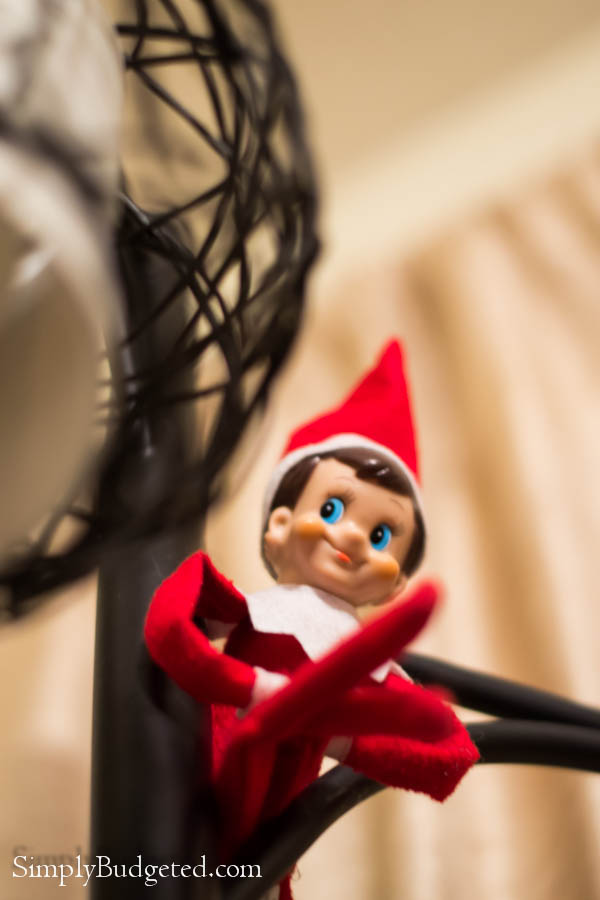 How is your elf doing? Hope you are ready to play along as we try to make it through the month! How does the The Elf on the Shelf  work at your house? Check on where Kingston was this year with the Kingston 2014 tag here!