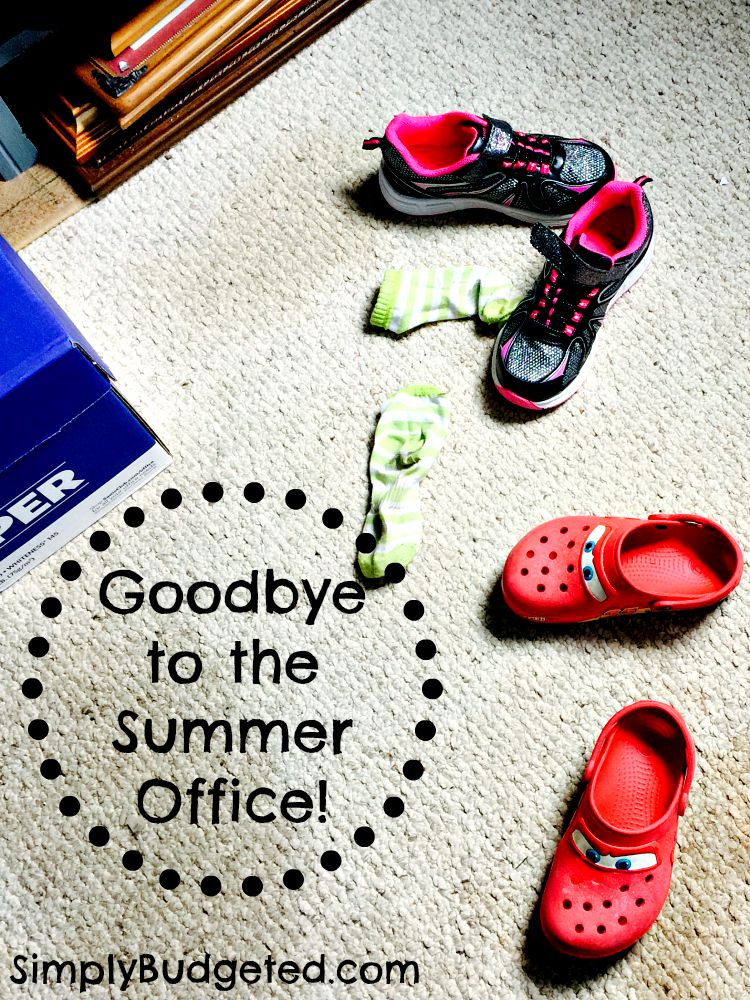 For the first time, I had the opportunity to spend the summer working from home. I have worked outside the home since before Grace was born. After each kid, I went right back to work. No long maternity leaves, just as long as I was given. I have had a few work assignments over the years where I could work from home one day a week or when we had bad snowstorms. I even had one where I worked from home for about 3 months but it was during the school year when the kids were in preschool so life evolved around a schedule then.
This time my new assignment lined up with summer so I was here ALL SUMMER and we had a pretty schedule free summer. I was working from home … on my laptop … on the phone (A LOT) with three kids here. Sure Brian was here too but he has been rockin' out content over on This Cookin' Dad and then here on Simply Budgeted while I tried to figure out this job and balance my time between work and family. He has succeeded in keeping the kids busy while I work away in the basement. Kudos babes! As I think about the summer, I am excited to share few things I learned.
Three Things I learned from working at home this summer …
1) Kids learn fast. I started getting messages written on paper handed to me "Are you on mute?" during my constant phone calls. Man I wish co-workers at the office did that instead of just talking as soon as they see me and then realizing I am on the phone.
2) The messes are the same here as the office. There might be a delivery that was unboxes and the trash is overflowing. Maybe someone left dishes in the sink … again. (The sign doesn't work there so I am guessing it won't work here either!)
3) Silence is golden but seems to rarely happen … unless it is like 6am here or like 5pm at the office.
and I can't leave out …
4) Lunch delivery from This Cookin' Dad will never be beaten. Having meals like Spinach and Strawberry Salad, Simply Sauteed Shrimp Scampi, and Pulled Pork Cobb Salad delivered to my desk while I am yet another call at noon is amazing.
Three Things I will miss as the kids go back to school tomorrow …
1) I will miss knowing they are here. Even if they do leave their stuff all over my tiny desk space. It still makes me smile to see a pile of kid shoes next to my desk. (I did refuse to clean to them up by the way!)
2) I will miss the little notes when I am on the phone. Sometimes it was to ask me yet another question. Sometimes it was a picture that said I love you though!
3) I will miss snacks with them. I didn't often get lunch with due to my call schedules but I could normally help with one snack a day and we won't have that 5 minute break together.
All that being said, I am happy they are headed back to school. I am excited for them to learn. They are excited. I LOVE that they are excited and embracing learning.
My new excitement is being here WHEN THEY GET OFF THE BUS!! Yay for this season of my life! Here is to praying my task continues and that I will get add to my lists next summer too.
Happy last day of summer break!