This coming a few weeks later than I had planned but we took the train to Washington, D.C. with the kids one day during their Spring Break. They now have less than three weeks of school left. ACK!!
We managed to get up there when the cherry blossoms were in bloom. If you live within driving distance of Washington, D.C. this is a must see time in DC. If you don't, it is a great (but busy time to visit!)
Here are the blossoms …

Nothing is as fun as a family selfie, right?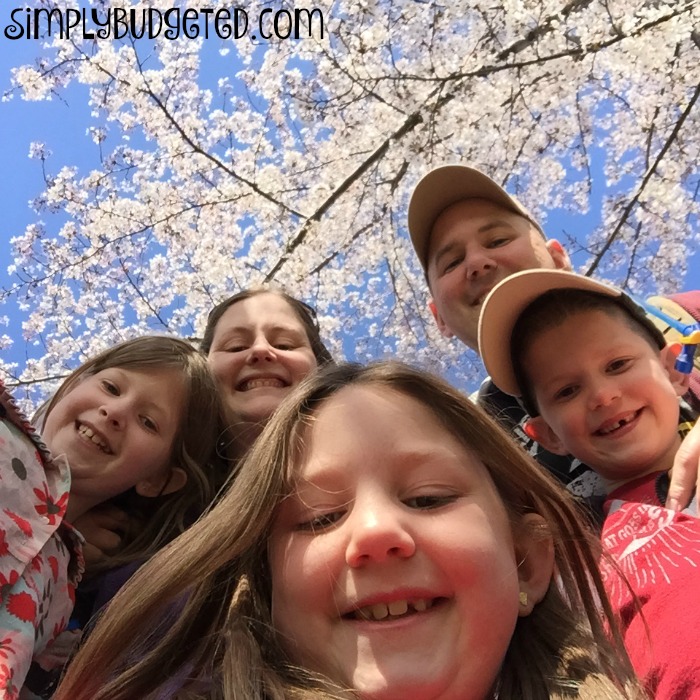 We found the floral library a few years ago (it is between the Tidal Basin and the Washington Monument).

We also walked around the World War II Memorial, near the Lincoln Memorial, and around the Washington Monument. We enjoyed Food Trucks for lunch that a commuter to the area told us about (photo credit to This Cookin' Dad!)
We finished the day with the Air and Space Museum. We are spoiled by the FREE museum access that the Smithsonian provides. The kids had a lot of fun.
TIP: You can enter on BOTH sides on the Air and Space Museum. The line was way shorter on the non-mall side of the building!
Have you visited Washington, D.C. The kids are wanting to head back this summer so watch for more pictures!