My oldest daughter turned four back in August. She wanted a monkey themed party. I ordered the Mod Monkey plates, napkins, pinata (one of her three birthday present requests) all from Birthday Express. They always have coupon codes out and have the cutest designs!

(They have a blue version too!)
As part of her presents, she had her party for her friends at Little Gym. While it isn't the thriftiest deal around it is a good value. The cost included 12 kids, play time with two instructors, drinks for them, and set-up/clean-up. The fact I didn't have kids running around my house was a huge plus and then I didn't have to clean-up either.
Since the party was more than we tend to spend, I wanted to save on the cake. I ended up making monkey cupcakes for her. I found the idea online but had to change it up as I couldn't find black gel icing.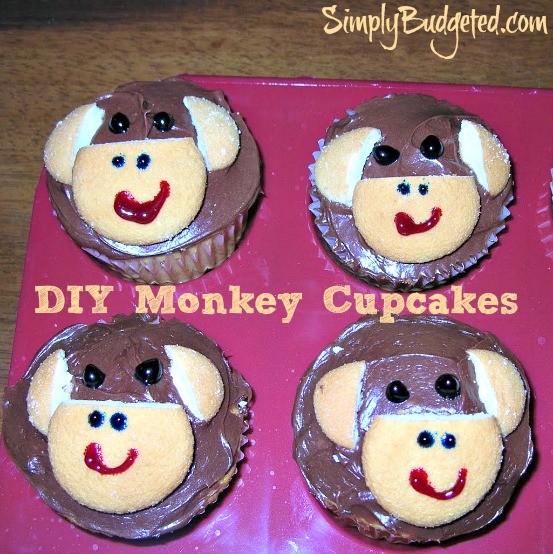 What do you need to make these?
cake mix – any flavor
chocolate icing
Mini Nilla Waffers
Nilla Waffers
red gel icing
blue gel icing (or black would be even better!)
Directions
Chop the Mini Nilla Waffers in half. You need one set for each cupcake.
Chop 1/3 off the large Nilla Waffers. You need one for each cupcake.
Place the large Nilla Wafer on the cupcake. Place the half Mini Nilla Waffers on each side to make your ears.
Put two large dots (blue or black) on the chocolate icing above the large Nilla Waffer for the eyes.
Put small dots (black or blue) at the top edge of the large Nilla Waffer for the nose.
Make a half circle/smile with the red gel below the nose on the large Nilla Waffer.
Ta-Da! You have fun monkey cupcakes for a party!

These were a huge hit at my daughter's birthday party. One note is that the Nilla Waffers get soft on the icing. I made the night before her party and they were fine. The cookie part on the leftovers were a bit soft two days after they were made though!
If you make these, let me know!! Do you have a cupcake idea? How about a fall/Halloween themed idea? I need one for the preschoolers!;)