As part of our new SimplyFood series, I would like to introduce our new series, Meatless Mondays.  Every week, I will post about our Meatless Monday experience.  This may include pictures, recipes, the family's reactions, reflections on the dish, or ways that I might change it up to be even better.  To find out why you should consider joining the Meatless Monday movement, please read about the benefits by clicking here.
This week, we are trying something of my own creation.  To be honest, on Saturday we came up with a plan for dinner and we just plum forgot what it was (that'll teach us not to write it down).  Knowing what we had sitting around the house, I decided to make a kind of taco out of some of the fresh veggies that we got at the farmer's markets over the weekend.  Here's my offering.  Try it and tell me what you think!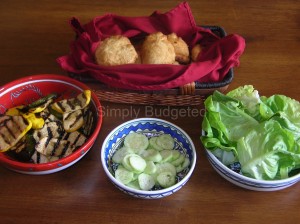 Zucchini and Patty Pan Fry Bread Taco
Everyone loves a taco, but what's a taco without some sort of meat?  The Asian flavors, slight char from the grill, chewy bread, and tangy cucumbers will have you devouring these yummy little handfuls and you won't miss a thing!
Ingredients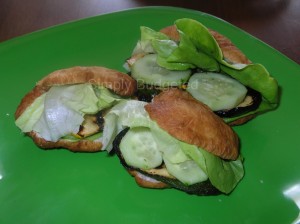 2 medium sized zucchini, sliced about 1/4″ thick
2 small patty pan squash, sliced about 1/4″ thick
1/4 C sesame oil
1/4 C rice wine vinegar
1/4 C soy sauce
1/4 C fresh squeezed lemon juice
2 sprigs each, basil and mint
dash of sriracha (more or less according to your taste)
S&P to taste
1 head bibb lettuce
Fry Bread (recipe follows)
Vinegar Cucumbers (recipe follows)
Directions
Combine all ingredients through S&P in a plastic zip top bag.  Mix well and allow to sit in the refrigerator for at least 2 hours.
Preheat grill to medium heat.  Grill vegetables about 5-7 minutes on each side or until well charred, but tender.
Cut open Fry Bread and layer lettuce, grilled vegetables, and cucumbers.  Enjoy!
Fry Bread
This is such a great easy little bread.  It has all of the chewiness that you love from great fresh bread, but none of the rising, waiting, and anticipation that comes from making those yeast breads.  The only downfall is cleaning up and storing the oil afterwards, but if you like it as much as I do, that oil can be reused pretty quickly!
Ingredients
2 C all-purpose flour
2 T baking powder
1 t sugar
1 t salt
enough water to make the dough firm, not sticky
oil for frying
Directions
Combine everything except for the oil in a mixing bowl.  Knead for about 5 minutes adding more water or flour as needed to make a dough that is firm and not sticky.  Let rest for 30-45 minutes.
Put 1-2 inches of oil in the heaviest pot you have than can hold it.  Heat oil to 350°. Form small spheres a little bigger than a ping pong ball.  Roll them until smooth and then flatten with a rolling pin until about 2-3 inches in diameter.  Slide dough into the hot oil (be careful not to splash yourself with the hot oil.  It burns–trust me!)  Fry until lightly browned around the edges, then flip (using forks or chopsticks) and fry for another minute or two until done.  Place on a paper towel covered plate to drain.  Serve hot!
Vinegar Cucumbers
These can be used on just about anything that needs that little bit of vinegary kick or just as a snack in their own right.  Our daughter, Sophie, wouldn't stop eating them.  What a great way to get some extra veggies in!
Tip:  Combine the sugar, dill, salt, and pepper in a small bowl and sprinkle some in after a handful of cucumbers. This will help to distribute the flavors a little more evenly.
Ingredients
3-4 cups cucumbers, peeled and sliced
1 C white vinegar
3 T sugar
2 T dill
1 t salt
1 t black pepper
1/2 C water
Directions
Combine all ingredients into any container that will hold it all (i.e. quart-sized Mason jar).  Mix well to combine and top off with extra water as needed.  Refrigerate 4-6 hours.