Even in a difficult financial climate, the last thing many families want to cut back on is their annual holiday together. Escaping the daily grind of work, household chores and the school run, and enjoying some quality time with the kids, is something we all look forward to for months in advance.
Budgets are tight for many families at the moment, so instead of staying at a hotel, perhaps consider renting a villa instead to cut down on costs. And it doesn't only make good sense financially – renting a villa offers many other advantages too. You'll rarely find that amount of space or privacy to do your own thing in a hotel, and just try asking the chef if he'll let you borrow his pots and pans one evening to knock up sausage, beans and chips for homesick children! Many villas also offer laundry facilities, and parking for your hire car too. For me, the biggest benefit of villa rentals is the flexibility – whatever your requirements in size, location, facilities such as pool or garden, or pet policy, you can find somewhere suitable.
Here's a quick rundown of some popular spots for family holidays on a budget, and why you should think about renting a villa while you're there.
Florida
Ok, it's a long-haul flight, so not the cheapest destination, but a trip to Florida, specifically Orlando, to meet Mickey and pals, is one of those once-in-a-lifetime experiences that the kids will never forget. You can make savings by visiting off-peak and booking early as possible, and looking for deals on park-entry packages. There are more villas to be found in Florida than you can shake a stick at. Modern facilities, easy access to the parks, golf courses and beaches, and at the moment there are some fantastic deals to be had.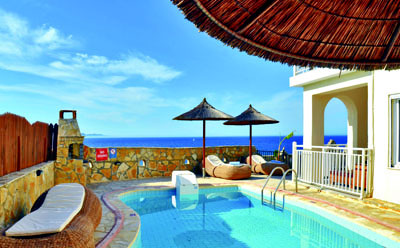 Greece
The Greek tourism industry is rapidly diversifying at the moment as it struggles to deal with the country's economic problems. There are loads of eco- and agri-tourism enterprises both on the mainland and offshore, manufacturing and selling products such as olive oil, feta cheese and wine. Picture yourselves touring the farms and sampling the produce, before knocking up a scrumptious salad back at your villa and enjoying lunch in a sunny garden.
Austria
Family ski trips needn't cost the earth. It's worthwhile pairing up with one or more other families, renting a large villa and sharing the cost. Budget flights, self-catering, borrowed clothing and traveling during less-popular dates all help reduce the expenditure. And it doesn't have to be Austria, there are alternatives throughout Europe: France, Italy, Bulgaria, Spain… As a professional tip, be sure and arrange a rota for using the hot-tub every evening!
France
Staying in a villa is one of the best ways to explore France. After a quick hop over on the ferry or through the tunnel, you can use it as your base to visit beautiful chateaus, do some wine-tasting, or browse for local delicacies and offbeat souvenirs in a local market. If you're going during the summer months, try renting one with a garden and pool so you can have family swimming parties or barbecues in the afternoon.