We are excited to review a cape provided by Power Capes as part of family friendly reviews here on Simply Budgeted!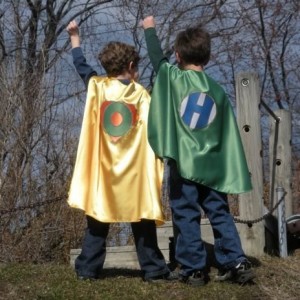 Details …
At PowerCapes.com you can build your own custom superhero cape . For less than $25, your child will feel like they can take over the world. With 11 cape colors and more than 25 emblems to choose from- you can pick the perfect color combination to suit your child's favorites.
All capes are handmade in Michigan and are perfect for birthday parties, holidays, or just any day your child might need to feel like they could run the world.
Our Thoughts …
Little boy dress up doesn't seem to happen, does it? Well it does now and little girls can get in on this dress up too! We were excited to add this to the dress up box becuase it gives out Little Dude a dress up option. That being said, I think our girls wear it as much as he does. They love being super heros so who doesn't want a cape?! Now I only have to worry about them jumping off something to fly … oh wait, they already did that I gave up on worrying about that long ago!
We were sent what has been named "Electric Man" cape (or "Electric Woman" if one of the girls wears it!) The velcro on the neck to close the cape makes it easy for the kids to get it on and off and not get stuck in it while trying to rip it off their neck. I greatly appreciate that feature!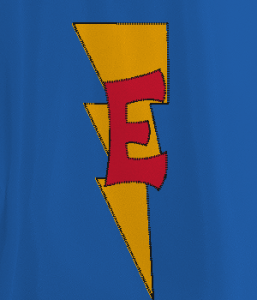 As an added note, they have adult capes too so if you are looking for a simple Halloween costume for YOU, check this option out! 😉
NOTE: We were provided with a cape to support this review. All thoughts and opinions in this post our own and based on our experience with this product.