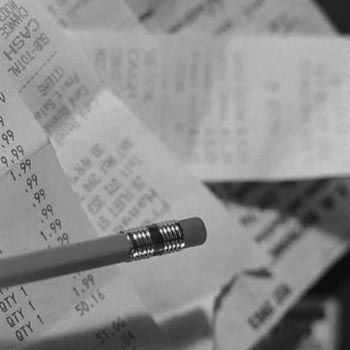 We are excited to bring another guest post to you today from Andrea Woroch!
Big-name stores like Gap, Kmart and Whole Foods Market are trying to cut back on paper. While they're still happy to accept paper money, some major merchants are turning to electronic sales receipts as a means of recording sales. Still, they have a long way to go before the public is willing to forgo their paper slips as proof of purchase.
In the meantime, here are nine ways those pesky pieces of paper can help you save cash.
1. Surveys
Want a penny for your thoughts? Check the back of some restaurant and store receipts and you'll find a survey that, once filled out, may result in a 10 percent to 25 percent savings on your next purchase. For example, Gap Outlet and Gap Factory presently provide a 15-percent off coupon as an incentive, while Old Navy offers a 10-percent-off deal. JCPenney kicks in with 15-percent to 20-percent off your next purchase. Restaurants prefer to offer freebies, such as a hamburger from Wendy's, an entree from Panda Express or a free donut from Dunkin' Donuts.
2. Rebates
No receipt? No rebate. It's as simple as that. Before they fork over your refund, stores want proof you paid for a product, not just ripped a piece off the packaging. While you're at it, make sure you keep copies of everything you sent in for the rebate, along with a record of phone calls and letters. Such info will help you get your money if you run into trouble.
3. Warranties
Merchants require you keep a paper trail to cash in on warranties, including a copy of your warranty and the receipt. In fact, keep every piece of paper related to your purchase if you want to take advantage of extended warranties. Alternatively, you can use a major credit card for a built-in extended warranty, but check out this article from Mint.com before you go that route.
4. Future Discounts
Many Starbucks stores offer $2 cold drinks after 2 p.m. if you proffer your receipt from an earlier purchase. Another similar trend, usually offered by smaller online merchants, is towards free shipping on your second purchase. In such cases, you're "receipt" is recorded in your online store account.
5. Read It
If you're stuffing receipts into your shopping bag without checking them out, you may overlook discounts that weren't rung up. You don't have to block the line while you scan the tiny numbers, but it helps to read over the receipt before you leave the store so you have immediate proof.
6. Car Paperwork
When it's time to sell your car, you'll want to show you provided it with lots of TLC. You'll sell the vehicle faster with proof of regular oil changes, general maintenance and such major work as a new timing belt. The receipt also comes in handy in case something goes wrong after a repair job, otherwise it could be your word against the shop. (Check out the Shop Smart article on this topic for more information.)
7. Clothing Returns
Wait until you've worn an item before tossing the receipt. Most stores require the receipt for exchanges or returns and you might just find it doesn't really work with other clothes in your wardrobe. Even if you've worn the item a couple times, the paperwork might get you a price adjustment, should the store mark an item down shortly after your purchase. One way to net such a deal is to find current promotions on websites like PromoCodes.us, and check with the store to see if they'll honor the price of the promotion and refund you the difference.
8. Save at the Pump
King Soopers, Safeway and other supermarkets occasionally run promotions where you'll receive a price reduction on their gas or a brand partner's gas when you spend a set amount in the store. The opposite occasionally holds true, as well. Sometimes presenting your fuel receipt at a grocery store will earn you double reward points.
9. Catalina Coupons
This is the most obvious savings of the bunch. Catalina coupons are printed either on the back of your receipt or attached at the bottom. The register's printer usually dispenses them in connection with a purchase you made that day.

Andrea Woroch is a consumer and money-saving expert for Kinoli Inc. As a nationally recognized media source, Andrea has been featured on Good Morning America, NBC Today Show, MSNBC, New York Times Bucks Blog, Kiplinger Personal Finance, CNNMoney and many more. To view recent interviews or for more savings tips visit AndreaWoroch.com or follow her on Facebook and Twitter.