We are excited to provide a review of the complementary iGrill that we received!
iDevices iGrill Grilling/Cooking Barbecue Thermometer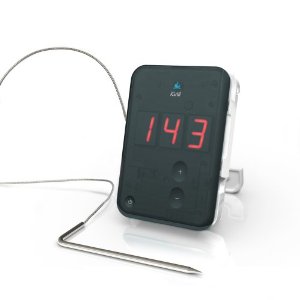 Details …
The World's First Grilling and Cooking Thermometer and App for iPod touch, iPhone and iPad
With its unique design, 200-foot Bluetooth connection and free accompanying app, iGrill is revolutionizing the way we cook and grill today. This sizzling, one-of-a-kind grilling and cooking thermometer enables its users to multitask between grill and guests with the peace of mind that their food is perfectly cooked at target temperature and safe for consumption. The iGrill is powered by four AA batteries (included).
Designed for Life
The iGrill's hygienic, task-specific design features a touch interface and projection display with no buttons or seams to collect dirt and grime, while its integrated probe storage eliminates kitchen drawer clutter. Additionally, standing, laying and hanging options mean the iGrill can adapt to every kitchen and any grill.
Multitask Meals
Whether executing multiple meals or catering to individual tastes, the iGrill's dual probe support enables its users to monitor two separate pieces of meat simultaneously. That's rare technology well done.
Going the Distance
Bluetooth enabled, iGrill features a 200-foot wireless range giving its users the ability to be almost anywhere in their home or yard without the fear of a lost connection. Leave your meal in the iGrill's capable hands so you can focus your guests.
Total Temperature
The iGrill is capable of tracking temperatures up to 400 degrees F (204 degrees C) and provides its users the option of temperature displays in either unit of measurement. Whatever you're cooking, however you're cooking it, the iGrill can handle the heat.
Free up Time with the iGrill
Most importantly, the iGrill affords its users something we could all use more of: Time. Finally, self-styled cooks and grill-masters can enjoy socializing family and friends without compromising the quality of their cuisine.
iGrill Solo
Users who don't own an iPod touch, iPhone or iPad can still enjoy the benefits of the iGrill as it also features a built-in alarm, therefore functioning as a stand-alone grilling and cooking thermometer with timer.
Our Thoughts …
May you have caught on that we love to find new ways to use our iPad. The iPad was a family gift to me last Christmas but everyone uses it. When we heard about the iGrill we got excited … really excited. We figured it could be used with the smoker which is hard to gauge the temperature on some times with the vents it has. We had planned to show this in use with our "new-to-us" smoker but every time we tried to do that with our menu, it rained. So we gave up and used in it in the kitchen cooking a pork shoulder. See …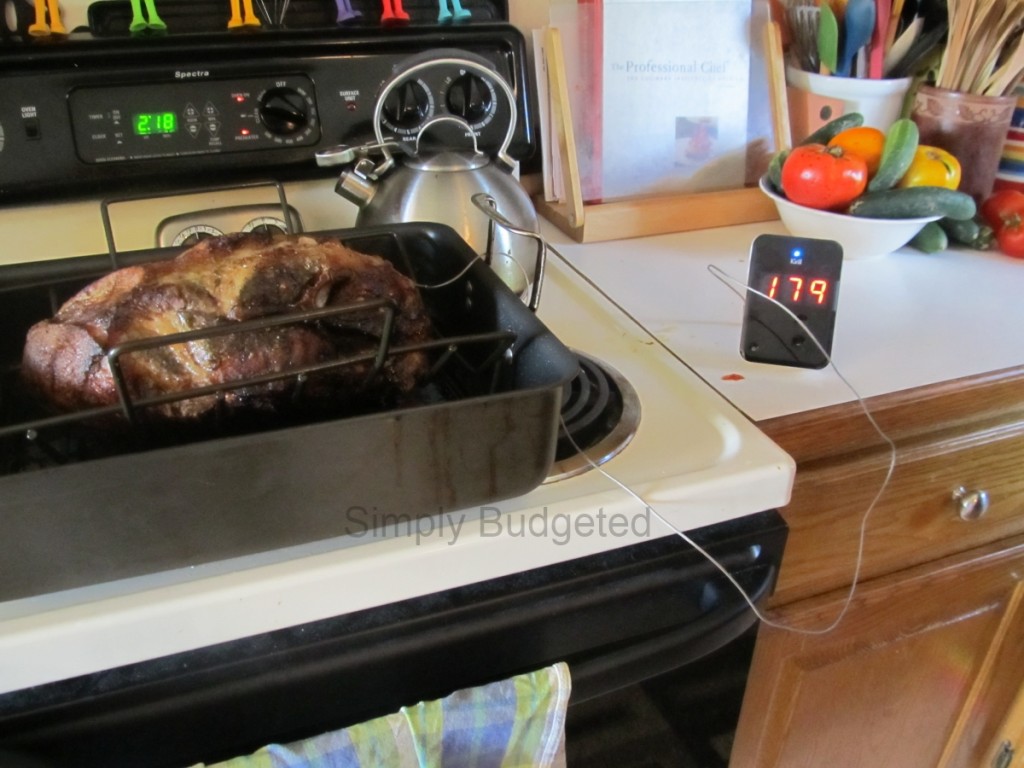 Of course it didn't rain that day but whatever. We were able to not stand near the kitchen and know how the cooking process was going. This is great for our kitchen but it isn't an open concept design. If you are in the kitchen, you are in the kitchen but who wants to hang out in the kitchen for hour after hour checking on something?!
One of the nice features of the iGrill is that it takes two probes. We had a digital cooking thermometer that sat on the counter. It was a Bed Bath and Beyond purchase from a few years ago. It works nicely … if you stand in the kitchen. We were excited to see the probe from that one fit in the iGrill. So the next time we smoke, we can put a probe in the meat and one in the smoker. This is a good tip we saw about smoking and are eager to try.
What do you think about the iGrill? Did we make you excited enough to check it out? You can find it on Amazon for $99.95 right now!
NOTE:
We were provided with a review product in exchange for this review. No other compensation was received. All thoughts and opinions expressed are our own!