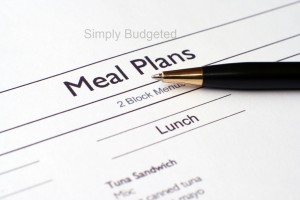 Here is the background to the monthly meal plan …
Last year, we did weekly meal plans. Well we did weekly meal plans most of the time. I say most of the time because some weeks we forgot to plan. Life got busy, school work was out of control, the preschool business started, the family all got sick. You name it, life happens. When I suggested a Monthly Meal Plan late last month, I was sure my husband would declare me nuts for good. BUT … he was on board.  Part of my accountable in doing this is posting our Monthly Meal Plan each month.
We liked the themes last month but didn't use them this month. We are trying to use up items we have in the fridge/pantry this month!
 September 2011 Monthly Meal Plan
1   Leftovers
2   Pork enchiladas
3   Birthday Party – Lasagna
4   Rosemary lemon chicken w potatoes
5   Quinoa pancakes with eggs
6   Cabbage salad
7   Burgers
8   Leftovers
9   Pizza
10 Corn Chowder (Daring Kitchen Challenge!)
11  Schnitzel with spaetzle
12 Spaghetti
13 Tacos
14 Pork Tenderloin w Pomegranate Wine Sauce
15 Leftovers
16 BBQ Chicken w/ Pomegranate Wine sauce
17 Omelets
18 Pot Roast
19 Spanish Tortilla
20 Slow Cooker Chicken with Rice
21 Gnocchi
22 Leftovers
23 Chicken and waffles
24 Out
25 Subs
26Veggie Fried Rice
27 Pizza
28 Ham and Rice
29 Leftovers
30 Steaks w grilled ratatouille
A few notes …
We have a weekend away (in Philly!) this month so that weekend we planned some meals we may leave but one night did mark "out".
We left leftovers on Thursday as a trial. The girls are starting at class that starts at 4:45 pm that is 30 minutes from the house. Oh and Grace gets off the bus at 4pm. Did I mention I am not home yet by then? Brian is going to a Bible Study those nights too. Thursdays will be crazy so we are going to see what we can manage dinner-wise. Our goal is to NOT eat out every Thursday.
If you are looking for answers on monthly meal planning, ask the questions you have! We don't know that we have the answer for you but we will look for them! Just send us an email at simplybudgeted at gmail dot com.
Have you tried monthly meal planning? How did it go? Any tips or suggestions?