We are excited to provide a review of the complementary copy of Top 100 Pasta Dishes: Easy Everyday Recipes That Children Will Love that we received!
Top 100 Pasta Dishes: Easy Everyday Recipes That Children Will Love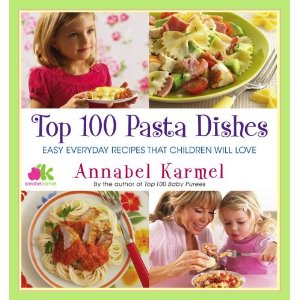 Details …
Who doesn't love pasta? For most kids—and their parents—pasta is the best food in the world. It's tasty and nutritious, it's easy, quick, and economical to cook—and, even better, it comes in lots of fun shapes! Here is Annabel's ultimate collection of one hundred pasta dishes, with a section for babies (it's a good way to introduce texture) and toddlers (it's great for fussy eaters), plus a huge variety of quick and easy recipes that older children will enjoy and that will become family favorites!Filled with color photos, simple instructions, and clear notes on cooking and preparation times, plus symbols throughout to show which recipes are suitable for babies and younger children, and which recipes are suitable for freezing, this is the ultimate pasta cookbook for families everywhere. With Annabel's help, dinnertime can finally be fuss free!
About the Author
Annabel Karmel is the mother of three children, a bestselling author of books on nutrition and cooking for babies and toddlers, and a familiar face on British television. Annabel travels frequently to the United States, where her books on feeding babies and young children are very popular. She has appeared on many TV programs, including the Today show and The Early Show. You can her website at www.annabelkarmel.com.
Our Thoughts …
The first thing that caught my eye when reading through this cookbook was the pictures. They are great pictures for some of the recipes (not all of them). The recipes start of with a Baby and a Toddler chapters. The next chapters are geared towards family meals … Poultry and Pasta, Meaty Menus, Favorite Fish, and Yummy Veggies. This cookbook really has something for everyone within those chapters!
Some of our favorites as we read through are the Sweet and Sour Meatballs and the Pumpkin gnocchi with lemon-sage butter sauce. I will say that these recipes are the five ingredient type nor are they the super fast type (some look faster than others.) I know we hope to try a few out in the coming months. I am in particular looking forward to some of the  Yummy Veggies recipes for our Meatless Monday posts!
You can find this book on Amazon right now for $12.32!
Have you tried any recipes in this book? If so, what are you favorites? Do you love other books by Annabel Karmel? Let me know which one I should try to find next!;)
NOTE: We were provided with a review copy of this book in exchange for this review. No other compensation was received. All thoughts and opinions expressed are our own!