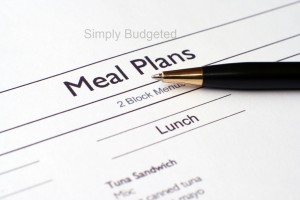 Here is the background to the monthly meal plan …
Last year, we did weekly meal plans. Well we did weekly meal plans most of the time. I say most of the time because some weeks we forgot to plan. Life got busy, school work was out of control, the preschool business started, the family all got sick. You name it, life happens. When I suggested a Monthly Meal Plan late last month, I was sure my husband would declare me nuts for good. BUT … he was on board.  Part of my accountable in doing this is posting our Monthly Meal Plan each month.
Last month, we tried to use up items we have in the fridge/pantry! It worked fairly well and we did good staying on track AND using our fresh produce. This month we decided to switch up again and go back to a plan we have used in the past … we are going to see how much cooking for the week we can do Sundays but creating a big dish (such as ham) that can be used all week! This is a big time saver and has worked well for us in the past.
October 2011 Monthly Meal Plan
1   Kid's Pick (they picked Pizza)
2   Pot Roast (using Red Wine)
3   Spaghetti Squash
4   Beef Enchiladas
5   Roast Beef Sandwiches
6   Leftovers
7   Pizza
8   Meat/Cheese/Wine
9   Roast Chicken Prep  and MooShu Pork (Daring Kitchen Challenge!)
10 Butternut Squash Soup and Salad
11  Chicken and Rice
12 Chicken Nachos
13 Leftovers
14 Out
15 Subs
16 Ham Dinner
17 Butternut Squash Gnucchi
18 Ham with Mac and Cheese
19 Ham and Eggs
20 Leftovers
21 Western Omelets
22 Hamburger Mac (Frozen)
23 Turkey Meatloaf
24 Mushroom Burger
25 Turkey Tacos
26 Spaghetti
27 Leftovers
28 Fajitas
29 Pizza
30 Pork Chips
31 Polenta with Grilled Veggies
A few notes …
I am out of town for almost a week (chicken week) so dinners are extra easy that week.
The girls switched classes so we don't have a Thursday 4:45pm class. This is helping our meal plan but killing me since Grace's class is now at 6:30pm and we don't get home until 8pm. (Their normal bedtime is between 7 and 7:30pm!) This will only last through December so I am trying to make it. My next kink is Girl Scout meets at 5:45pm so we are trying to plan easy to cook/clean up dinners those nights!
If you are looking for answers on monthly meal planning, ask the questions you have! We don't know that we have the answer for you but we will look for them! Just send us an email at simplybudgeted at gmail dot com.
Have you tried monthly meal planning? How did it go? Any tips or suggestions?