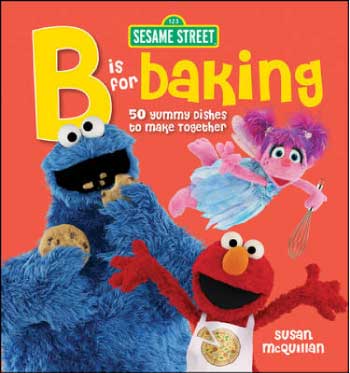 Details …
Now parents can introduce their kids to baking with a fun, kid-friendly guide to baking from the Sesame Street gang!
A perfect companion cookbook to Sesame Street 40th Anniversary C is for Cooking (Wiley 2009), Sesame Street B is for Baking: 50 Yummy Dishes to Make Together (Wiley Hardcover; September 12, 2011; $16.95) is the ideal introduction to baking that is sure to get kids active in the kitchen. With Elmo, Cookie Monster, and Abby Cadabby leading the way, this engaging, colorful cookbook offers 50 delicious, nutritious, kid-pleasing recipes for breakfast, lunch, and dinner, plus snack time and special occasions. All of the recipe pages are colorfully designed with full-sized photos and detailed instructions that are sure to inspire kids to develop good eating habits while having fun in the kitchen at the same time!
Baking often makes you think first of "sweets," but there are many exciting, satisfying recipes for parents and children to bake together—from French toast and muffins for breakfast; to pizza, pot pie, turnovers, and mini-quiches for lunch and dinner; to puddings, pies, brownies, and birthday cake for special occasions. Every recipe was carefully written to maximize nutrients while maintaining flavor and texture. Plus, each recipe includes one or more "Kids!" steps to get kids involved in baking in fun and easy ways.
In Sesame Street B is for Baking, Elmo and everyone's favorite friends from Sesame Street provide educational tidbits so that young children (with adult supervision) will learn not only baking skills and a healthy attitude toward eating, they'll practice counting, identifying shapes, and working as a team.
Most importantly, parents will get a chance to spend time with their children in the kitchen while making easy-to-prepare dishes that both kids and parents can enjoy and take pride in.  This book will lead to hours of baking fun!
Our Thoughts …
Sophie has claimed this cookbook as hers. Well until Grace is around and then she will claim they share it. I believe Sophie has no intention of sharing it though! Sophie has spent hours looking through this cookbook at the pictures in it. If Brian or I go get a cookbook off the bookcase, she will go get this one to look at on her own. She truly loves it.
Recently, I let her pick a recipe from the cookbook. She picked Ernie's Halloween Cake recipe. I told her OK and then look at the recipe and got worried. It called for a fall squash or pumpkin or sweet potatoes. We oddly had no fall squash and we haven't had any canned pumpkin for awhile. (I have been processing and freeze pumpkin instead.) We did have sweet potatoes though so I figured that would work and honestly wonder how we would even eat this cake.  This cake was so good though. If you didn't know it had sweet potatoes in it, you would never know. Here is our finished cake …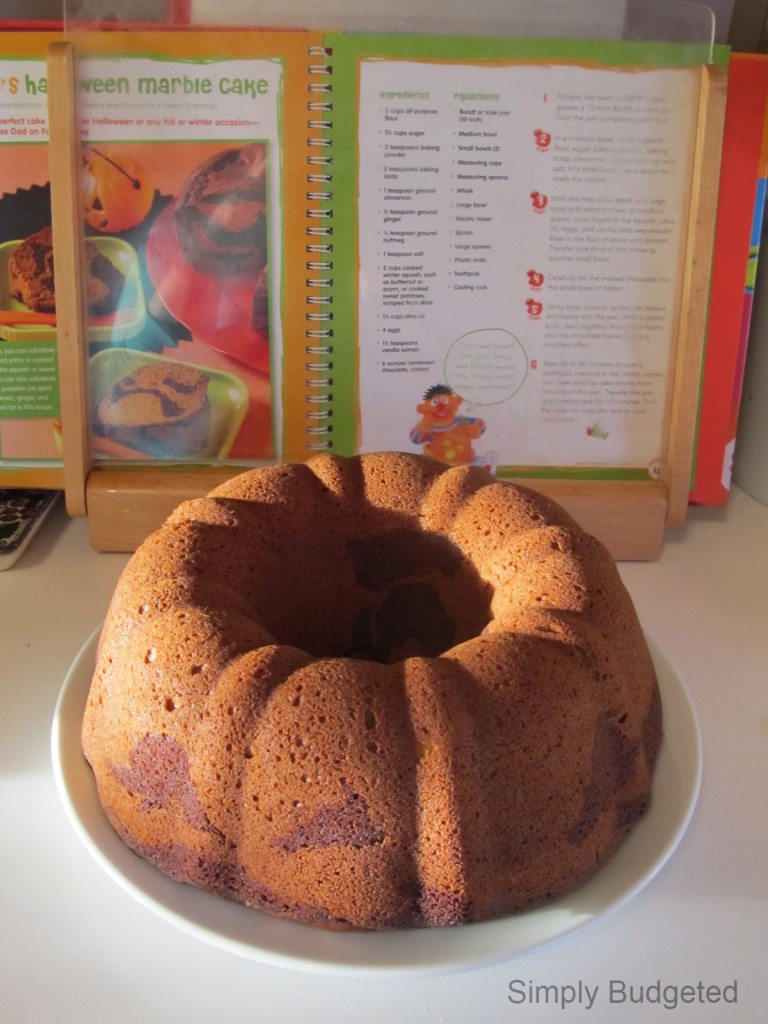 And a piece of cake so you can see how it marbled.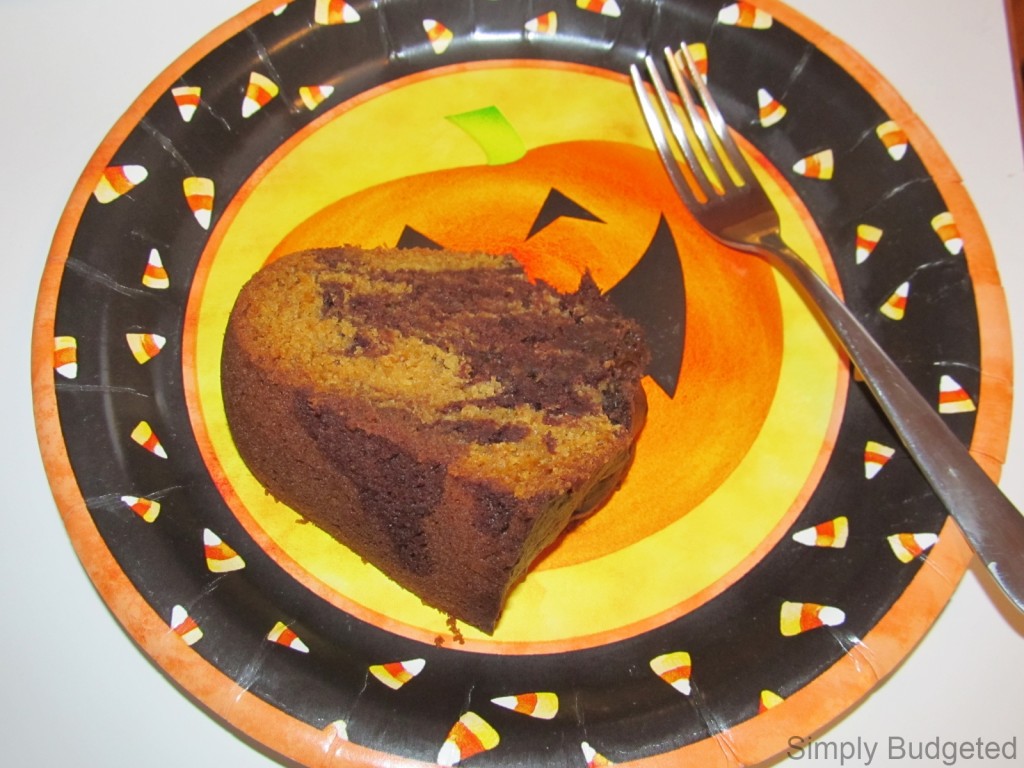 I know this recipe says Halloween but you aren't into Thanksgiving pies, I suggest giving this cake a try this coming Thanksgiving holiday!
Ernie's Halloween Cake 
Ingredients
3 cups all-purpose flour
1 3/4 cups sugar
2 teaspoons baking powder
2 teaspoons baking soda
1 teaspoon ground cinnamon
1/2 teaspoon ground ginger
1/4 teaspoon ground nutmeg
1 teaspoon salt
2 cups cooked winter squash or sweet potatoes (or canned pumpkin)
1 1/2 cups olive oil
4 eggs
1 1/2 teaspoons vanilla extract
6 ounces semisweet chocolate, melted
Directions
1) Preheat the over to 350 degrees F. Lightly green a 10-inch Bundt or tube pan. Dust the pan completely with flour.
2) In a medium bowl, whisk together flour, sugar, baking powder, baking soda, cinnamon, ginger, nutmeg, and salt. In a small bowl, use a soon to mash the squash.
3) With the help of an adult, in a large bowl with electric mixer at medium speed, beat together the squash, olive oil, eggs, and vanilla until very smooth. Beat in the flour mixture until smooth. Transfer one-third of the batter to another small bowl.
4) Carefully stir the melted chocolate into the small bowl of batter.
5) Using large spoons, spoon the batters alternately into the pan. With a plastic knife, swirl together the squash batter and the chocolate batter to get a marbled effect.
6) Bake 50 to  60 minutes or until a toothpick inserted in the center comes out clean and the cake shrinks from the side of the pan. Transfer the pan to a cooling rack for 10 minutes. Turn the cake out onto the rack to cool completely.
You can buy this over on Amazon plus they have a great deal right now!
We are excited to giveaway one copy of this cookbook to one of our readers!
Details:
This drawing will end Thursday, November 24th at 11:59pm EST. The winner will have 48 hours to reply with their address. You must include your email address in the comment form so you can be contacted if you are a winner! You must complete the Mandatory Entry for the additional entries to count.
This giveaway is open to US residents only!
So how do you enter?
Mandatory Entry: Leave us a comment about who your little baker is.

Additional Entries:
1)
Follow us on Facebook
HERE
. Worth
two entries
so leave two comments here! (Psst … we love comments on Facebook so maybe you can leave us one!)
3) Tweet about this giveaway with this tweet:
RT #Win a copy of Sesame Street B is for Baking #cookbook at @this_cookin_dad http://bit.ly/vOrSLB ends 11/24 #giveaway #moms #children #baking
Leave a comment with the URL for your tweet. (One Tweet per day until end of giveaway!!)
4) Follow us publicly through the Google Friends Connect in the footer. Leave a comment with your name that you subscribe with.
5) Subscribe to the daily email here at Simply Budgeted. It is at the top of the sidebar!;) Please leave a comment. (worth 5 entries!)

NOTE: We were sent a review copy of this book in support of this review. No other compensation was received. All thoughts and opinions expressed in this review are our honest opinion.